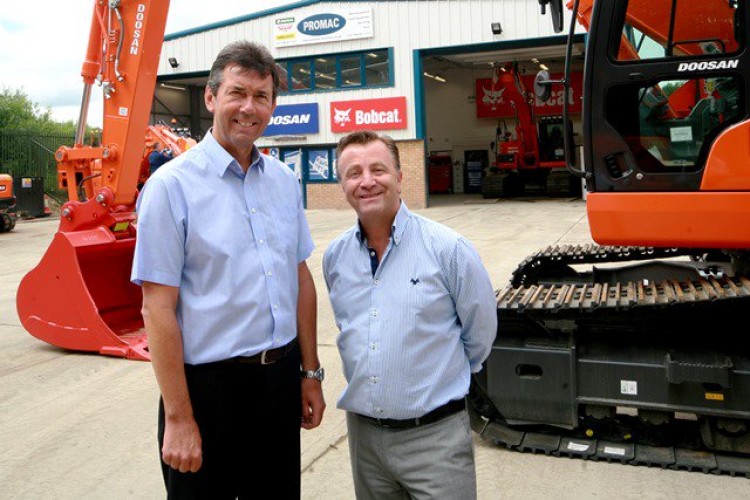 Nick Clarke and Tim Ball of accountants Mazars were appointed joint administrators of Promac Solutions Ltd on Friday 30th June and are trying to find a buyer for the business as a going concern.
As dealer for Doosan and Bobcat for southern England, Promac is one of the UK's largest suppliers of new and machinery for earthmoving, civil engineering, construction, demolition and recycling. Promac Solutions Ltd was formed in 2006 by Stephen Long and Grant Linton, who remain the primary owners. It employs 36 staff.
Promac also represents Mecalac (Terex GB, as was).
Promac moved into new 1400m2 purpose-built premises in Aldermaston, Berkshire, in 2013.
Parent company Promac Solutions Holdings Ltd has yet to file its 2016 accounts but the 2015 accounts showed a net loss of more than £900,000 on turnover of £26.1m.

A 9% dip in sales in 2015 was blamed on Doosan putting its prices up, costing Promac share.
Promac cut overheads in response. At the start of 2016, Doosan brought its prices back down again and sales began to grow again, the directors' report for 2015 said.
Joint adminnistrator Tim Ball, from the Bristol office of Mazars, said: "The company is continuing to trade whilst we try to market its business and assets for sale as a going concern. None of the executive staff and team members have been dismissed, and are all still working as normal for the company in administration."
He added: "Unfortunately the company has struggled to overcome long-term cashflow problems caused by significant trading losses incurred in the past, which were then exacerbated by market uncertainties resulting from the Brexit vote in 2016. Although the company had instigated a turnaround plan with some success, the directors felt that they could not achieve significantly improved results quickly enough to be able to successfully trade out of the company's difficulties, as a result of the burden of existing debt. Any purchaser of the business, however, will benefit from those improvements, without having to consider the debt of the old company."
Interested parties are invited to contact tim.ball@mazars.co.uk
Got a story? Email news@theconstructionindex.co.uk