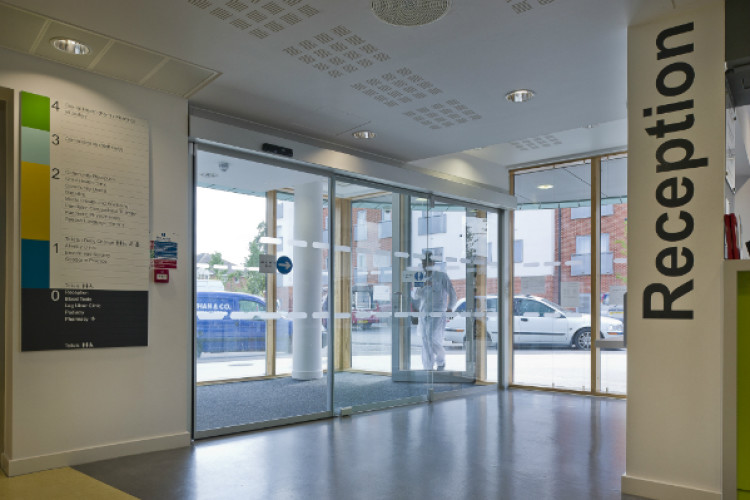 For these reasons, two automatic operators from DORMA, the global market leader of door controls, automatics, glass and movable walls, were specified.
Built by main contractor Willmott Dixon and designed by architects Penoyre & Prasad for developer Building Better Health – the private sector property development partner for three London LIFT ventures – the project has seen the creation of a 2,500m2 five-storey building which will be home to three GP practices, podiatry, specialist dentistry, family planning, mental health, and a minor surgery and treatment suite. As well as this, specialist child health and paediatric therapy services will be available, as will a base for health visitors and community midwives.
With the centre set to be a key element of the new Grand Union Village development, and receiving constant visitors, the new building required a high performance entrance with aesthetics to match. For this reason specialist contractor Pro-care Maintenance Service, appointed to deliver a complete door and window installation package, specified two ED 200 swing door operators and an ES 200 sliding automatic operator from DORMA.
With a proven track record in delivering solutions that offer long term performance, ease of operation and aesthetic appeal, DORMA offered Pro-care Maintenance Service the natural choice for such a high profile and highly trafficked building.
The deep plan building's design incorporates natural lighting through generous quantities and sizes of windows, as well as two large light wells that help to create a vibrant and easily navigable interior. To complement the naturally-lit, bright internal environment, the use of glass doors with minimal fixings proved ideal. For this, both the ED 200 and ES 200 met the demands perfectly.
DORMA provided two of its ED 200 swing door operators to create the building's outer door and an ES 200 sliding door operator for the inner leaf to help keep heat within the building. With the installation of DORMA's automatic operators, Pro-care ensured the building's main entrance provided an enticing and attractive appearance – a prerequisite for modern healthcare buildings where welfare is essential.

Automatic doors provide optimum safety and improved performance for buildings with high traffic areas, with DORMA ED 200; a fully automatic, electro-hydraulic swing door operator proving ideal. Offering great benefits to staff and patients, the use of an automatic entrance ensures access is constant and without the need to physically hold the door open to improve contact hygiene – of utmost importance in the hospital and healthcare environment.
As a powerful fully automatic electro-hydraulic swing door operator, the DORMA ED 200 operator is suitable for both internal and external doors, and can be fitted to fire doors.
Designed to meet the requirements of every automatic sliding door application, DORMA provided its ES 200 for the inner leaf of the main entrance. Maintaining the building's elegant aesthetic, the ES 200 features clean contours and perforated end caps perfectly to complement the glass door panel, as well as Penoyre & Prasad's contemporary interior.
Based on an innovative building-block concept, the ES 200's minimalist design also ensures a simple and fast fixing process, problem-free operation and maximum reliability – once again proving perfect for the regular traffic expected to pass through the community health centre doors.
Part of a £38 million Government scheme to improve community living and working conditions, the new health centre was delivered to ensure exceptional performance across all aspects, with DORMA demonstrating its ability to provide a solution that offers durability and performance. With the incorporation of DORMA's ES 200 sliding and ED 200 swing door operators, the building now welcomes people to stunning healthcare facilities, through an equally impressive new entrance.
Got a story? Email news@theconstructionindex.co.uk