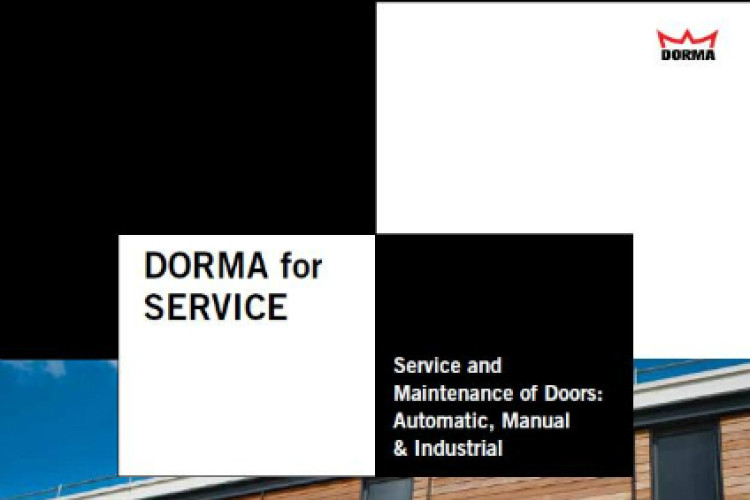 All doors, windows and entrance systems are prone to wear and tear and there are also legal requirements regarding the service and safety of these, so regular maintenance is imperative. Dorma, with its wealth of experience, is able to offer clients a single source provider for all door service and maintenance requirements and the new brochure, titled 'Dorma for Service', outlines the company's preventative maintenance packages and 24 hour reactive repair service.
The Dorma service package includes three variations – 3 Star, 4 Star and 5 Star. All three packages can cover both manual and/or automatic doors and include basic adjustments, BS 7036 compliance checks, fire safety assessments and minor fault rectification as standard.  Service contract customers benefit from a significant reduction in call out rates where charges are applicable.
The brochure also details Dorma's commitment to reactive repair and fast response times with its 24 hour emergency hotline. To achieve this, Dorma employs a team of engineers across the UK & Ireland to ensure local coverage is provided when needed.
With the specification, and subsequent servicing and maintenance of doors and doorsets, there are three key pieces of legislation to be aware of. Dorma can ensure your doors meet the conflicting needs and requirements of the Equality Act, Occupier's Liability Act and Fire Safety Order legislation.

As part of the service package, Dorma can offer more effective and efficient management and monitoring of doors by incorporating DORVISION – a GPRS based wireless system. It provides real-time remote control functionality and helps to identify and resolve minor maintenance issues remotely without the need for a service engineer to attend.
For automatic doors, manual doors and ironmongery, industrial doors, windows and access control, 'Dorma for Service' offers valuable guidance and advice to ensure Dorma offers the highest standard of service every time.
Operating across virtually every market sector from commercial and industrial to workplace, retail, leisure, health and education, Dorma's service offering provides end users with the peace of mind that the legal responsibilities, maintenance and safe operation of their doors will be in the safe hands of a global market leader.
Got a story? Email news@theconstructionindex.co.uk