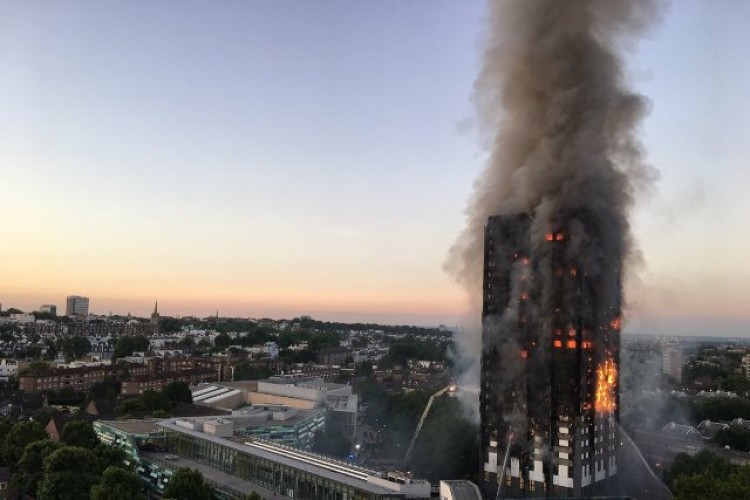 Mayor of London Sadiq Khan has decided to act ahead of the findings of the official government review into the June's fire.
A new draft London Plan will be published for consultation week, with a three-month public consultation opening on 1st December. The final London Plan will also reflect any further changes that need to be made in light of the Grenfell public inquiry and the Hackitt review into building regulations.
For the first time, the London Plan will require new development proposals to go beyond the minimum and achieve the 'highest standards' of fire safety to ensure the best possible protection for all building users should a fire break out.
Fire safety plans and features to help stop fires spreading, and aid escape, rescue and evacuation – such as fire evacuation lifts and sprinklers – must be incorporated into building designs from the outset.
However, the mayor is not saying that all buildings will specifically have to have sprinklers as they are just one type of fire suppression measure. Because of the variety of standards, solutions, approaches and products available, no specific solution is mandated. But as the policy requires the highest standards are met, planning applications will be required to adopt the most suitable measures for the development proposed.
Applications for all major developments will have to be accompanied by an independent fire statement, produced by a qualified third-party assessor, setting out how the 'highest standards' will be achieved appropriate to each specific building or development, from the enormous variety of fire safety solutions and measures available.

70 people were killed when a fire ripped through the 24-storey Grenfell Tower block of flats in North Kensington on 14th June 2017. The speed with which the fire took hold, and the extent of its impact, has prompted inquiries into various aspects of the incident, including fire control systems and the materials used in a recent recladding of the tower block.
As well as an official public inquiry, the government has commissed former HSE chair Dame Judith Hackitt to lead an independent review of building regulations and fire safety. And the Institution of Civil Engineers has commissioned former government chief construction advisor Peter Hansford to lead a review on lessons engineers need to learn from the systems failure.
London Fire Brigade director of operations Tom George said: "The Grenfell tragedy has put an unprecedented spotlight on fire safety and it's now vital that government, local authorities, builders and developers seize this once in a generation opportunity to raise fire safety standards to the highest possible level across all future building developments in the capital, whether they are residential or commercial.
"Only by making fire safety a priority during every part of a building's life – from the earliest stages of the planning process, throughout its construction, after its completion and through any maintenance and refurbishment work – will we see a significant improvement to safety standards in the capital's buildings that will reassure those who live and work in them that they are as safe as possible."
Until now, it has been possible for developers to delay addressing fire safety until the building control application stage of development when amendments can be hard to incorporate.
Got a story? Email news@theconstructionindex.co.uk