Liebherr's Nenzing factory must be quite the most scenic location for any equipment manufacturer, set high up in the Alps. This is where Liebherr makes its piling and drilling rigs, duty-cycle cranes and smaller lattice boom crawler cranes. It still makes a few mobile harbour cranes here too but most of this product line has been moved to a newer factory, more appropriately located in Rostock on the north German coast. That it chose to pour with rain on the day in April that Liebherr opened its doors in Nenzing to several hundred customers did little to detract either from the scenery or the machines that were being unveiled. These were the LRB 355 piling and drilling rig and the HS 8130 HD duty-cycle crane.
The Liebherr LRB 355 is the biggest model in the LRB series of multi-functional piling and drilling rigs. It is available in two different configurations with a maximum height of 33.5m and a maximum weight of approximately 100 tonnes without attachments. The rig is driven by a V12 diesel engine offering 600kW of power and the undercarriage boasts the longest tracks in its class for high stability.
The LRB 355 can be used for various applications, Liebherr says, including drilling with Kelly equipment, double rotary head and continuous flight auger and soil mixing, as well as piling jobs with vibrator and hydraulic hammer.
The new 450kNm BAT rotary drive can be used with this rig, for which a 750kW engine is an option. This hydraulic drive offers automated torque adjustment, continuous speed optimisation and four electronically adjustable speed ranges.
Mounting of all the winches directly on the leader means that not only does the operator get a clearer view of the business end of the machine but also the ropes do not move around during leader adjustment.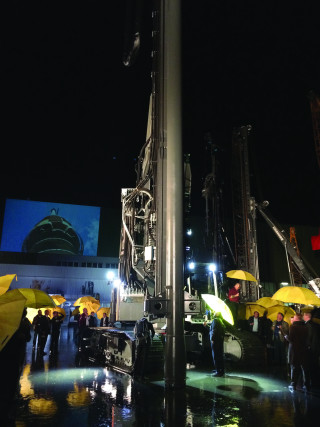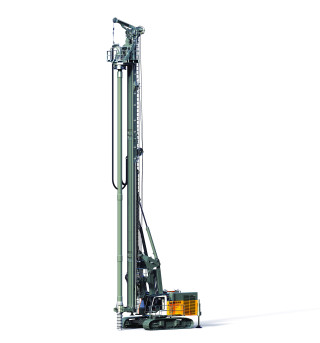 There is an optional elevating working platform to access the attachments and the rotary, which Liebherr says makes the machine more efficient and makes maintenance and tool assembly easier.
Liebherr also took the wraps off its new HS 8130 HD duty-cycle crane, to replace the HS 885 HD that has been a reliable seller around the world over the past 13 years. With a new low-emission Stage IV V8 engine, it has more power and less fuel consumption than the older model. The engine output is 505kW, compared to 670kW before; the two freefall winches have been upped to 35 tonnes each instead of 30 tonnes; line pull is upped from 300kN to 350kN; and it's a bit quieter too. A third innovation unveiled by Liebherr was the LV20, a new vibrator attachment for sheet piling and the company's first sheet vibrator. Among the UK contractors represented at the Nenzing open day were Cementation Skanska and Bachy Soletanche. Cementation is an established Liebherr customer, with LB 28 and 36 rigs in its fleet as well as HS machines.
Surprisingly, perhaps, Liebherr was not the only Germanic plant manufacturer holding an open day for its customers in April. Over at Bauer's factory in Schrobenhausen in Bavaria, a complete diaphragm wall construction site was set up to showcase various product offerings. There was an MC 64 duty-cycle crane with a DHG-V diaphragm wall grab and a BC 35 cutter on a larger MC 96 foundation crane. The MC 96 has a new rotating trench cutter with a hose drum system that is designed for a cutting depth of 100m. As a result of modifications made to the boom head and the pulley block, the cutter can be slewed steplessly to its normal position in a range of -50o to +95o.
Like Liebherr, Bauer is also striving to make life easier for operators of its equipment. A new feature of the BG rotary drilling rigs is an integrated service platform that can be pulled out like a drawer. This is designed to eliminate the time spent attaching and separately transporting step grids and railings. Side panelling provides fall protection.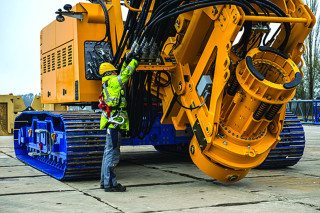 Visitors to the Intermat trade show in Paris that same month might have notice Bauer promoting its BG 30 rotary drilling rig. The target application for this is Kelly drilling. A rotary drive with a maximum torque of 300kNm enables it to drill with a diameter of up to 2.5m. Using a four-part Kelly bar it is possible to reach drilling depths of 68m, or 87m with a five-part Kelly bar.
Unlike with standard drilling rigs, the crowd cylinder is installed in reverse so that the hydraulic lines that supply the crowd cylinder connect at the other end of the cylinder, making disassembling easier, Bauer says, and eliminating the risk of oil leaking on the couplings.
Also prominent at Intermat was Soilmec, which showed two micro-drilling rigs, the SM-4 and SM-9, along with several drilling tools.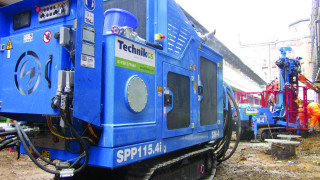 The nine-tonne SM-9 is a high-performance, mid-size compact rig suitable for micropiles, anchors, water wells, soil investigation and jet grouting. It has a new kinematic mechanism with 90o articulation, allowing drilling parallel to the tracks. Together with the cylinderoperated sliding mast and pivoting undercarriage, the machine can work in a variety of angles and positions and with a range of rotary heads, clamp and breaker devices and crowd systems.
The SM-4 is designed for sectional flight auger (SFA) technology. SFA piles are formed with the use of sectional lengths of hollow stem continuous flight auger. The method is used in low headroom or restricted sites where a CFA rig cannot reach. Each section, starting with a toothed lead auger, is added to the rig as the augers are bored into the ground.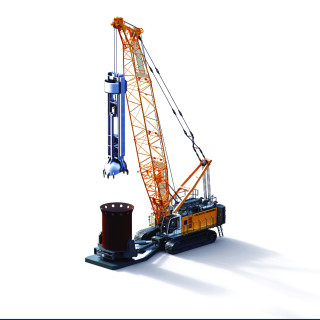 When the required depth is reached, grout is mixed and pumped through the rotary and down the hollow stem of the augers as they are extracted and removed. Piles can therefore be made in wet unstable ground conditions. SFA is also used, in certain soil conditions, for open bore piles. The auger sections are extracted fully before the grout is cast in the open bore.
The compact SM-4 rig unit boosts retractable crawlers and stabilisers, giving the rig to a minimum width of 740mm and a minimum tracking height of 1980mm. The casing clamp system is also just 740mm wide to get into tight spots without removing the clamp. There is a separate power pack mounted on crawlers, to allow independent tracking around the site, with umbilical hydraulic hoses connecting the power pack to the rig. This means that the rig can work inside a building, if needed, while the power pack remains outside.
This article first appeared in the June 2015 issue of The Construction Index magazine. To read the full magazine online, click here.
To receive you own hard copy each month in traditional paper format, you can subscribe at
http://www.theconstructionindex.co.uk/magazine#
Got a story? Email news@theconstructionindex.co.uk