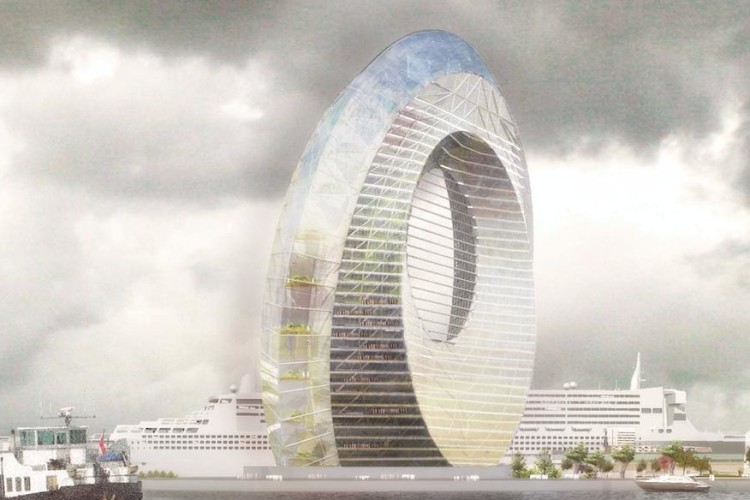 In addition, the team behind the project has signed a 'green deal' designed to increase the project's chances of realisation. The deal with municipal and local authorities gives a starting point for an investigation into the project's financial feasibility, its operational possibilities and site-specific requirements.
The proposal was originally put forward by Bloc, DoepelStrijkers and Meysters (link opens in new tab). The technology is now being developed by an 'innovation consortium' composed of Arup, Royal BAM Group, Deltares, Dura Vermeer, ECN, Eneco, Evides, Siemens, SPIE, TNO and the Windwheel Corporation (in which the Rotterdam-based companies BLOC, DoepelStrijkers and Meysters are represented).
The goal of the consortium is to improve the quality and sustainability of buildings through the use of climate architecture and advanced technology. The innovation partners are supported by InnovationQuarter, NBTC Holland Marketing, PNO and Rotterdam Partners.

Based partly on the results obtained by the innovation consortium, the design has advanced in recent months.
The principal characteristics of the Dutch Windwheel have been preserved in the latest version of the plan, which was designed under the leadership of DoepelStrijkers and Arup. The building complex will still retain its original functions, including an attraction that consists of cabins (similar to those of a Ferris wheel) that will transport visitors to the highest point of the Dutch Windwheel. The construction aspects have been optimised in the design, and the principles for the use of materials and the climate, water and energy systems have been extensively worked out.
The project has been proclaimed a regional 'field lab' and both the Rotterdam - The Hague metropolitan region and the Municipality of Rotterdam will be contributing to testing the innovations. By signing the Green Deal, the Municipality of Rotterdam, the Province of Zuid-Holland and the Dutch government will be endorsing the potential of the project for the regional economy and employment.
Got a story? Email news@theconstructionindex.co.uk