The demolition industry has come a long way since the days of drop-balling, despite what Mylie Cyrus would have us believe. In fact, today's top demolition contractors possess as much engineering expertise as many tunnelling or civils specialists.
Health, safety and environment are the three words that explain this growing sophistication, and nowhere more so than in the handling of asbestos-containing materials.
Asbestos removal is a niche specialisation, hedged about with so much regulation, codes of practice and painstaking methodology that a licence is required to carry out all but the most superficial, short-term work.
So when it came to tackling Millennium Mills – the old Spillers flour and animal-feed mill in London's Docklands – the client (regeneration body The Silvertown Partnership) had only a handful of contractors to choose from who were capable of work on this scale.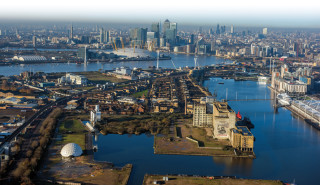 Millennium Mills is a huge 11-storey pile, built in 1905 on what, back then, was part of London's grimy industrial hinterland but is now a prime Docklands site, a stone's throw from London City Airport and the O2.
For the past 20 years the building has stood empty and increasingly derelict, but now it is earmarked as the centrepiece of an ambitious redevelopment that will see 3,000 new homes plus commercial, retail and leisure facilities set in landscaped grounds.
But first, they had to get the asbestos out.
The company chosen for this task was Yorkshire-based Rhodar, one of the UK's leading asbestos removal specialists. It has proved a key contract for the company, says chief executive Jason Davey: "We are the largest asbestos removal contractor in the UK, but we're not particularly well-known in the London area, though we've had an office there for some time," he says.
"So Millennium Mills is an important project for us."
Millennium Mills would have been an important project for any contractor, since Phase 1 of the scheme was one of the most extensive asbestos removal contracts ever undertaken in the UK.
The task awaiting Rhodar when it started on site in November 2014 was to strip out, grit-blast and deep-clean the entire inside of the building. And it's a big building: 11 storeys high and 55,000m3 in volume, occupying a 50 acre site.
For the purposes of this contract, the building was divided into three sections: the main central section, Zone B, flanked on either side by two projecting wings, Zones A and C. The work was carried out in the three zones simultaneously in top-down fashion, one floor at a time.
First, scaffolding was installed to provide access to all levels. Then, to ensure safe working at height, all unguarded openings were enclosed with barriers and unsafe floors were supported with scaffolding from below.
Then, floor by floor, Rhodar began the process of pre-cleaning, followed by the dismantling and removal of old equipment and fittings, before tackling the asbestos removal.
Asbestos can be found in various guises. It is commonly encountered as fibre-cement sheeting or roofing, when it is relatively easy to handle, the fibres being encapsulated in the substrate.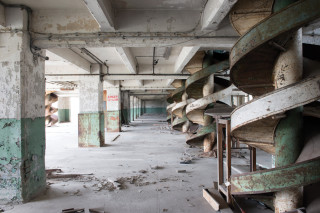 More hazardous is asbestos in its raw, fibrous, state – usually where it has been used to lag pipes or insulate machinery. Here there's a much higher risk of fibres being released into the environment and inhaled.
At Millennium Mills, Rhodar encountered asbestos in both these forms, but the most extensive and laborious task was the removal of asbestos-containing paint.
While most people are well aware of the danger of exposure to lead when stripping old painted surfaces the fact is that, in industrial buildings especially, paints incorporating 5–10% asbestos fibres were once widely used, presumably for their fire-retardant properties.
"We had to work with all these different forms of asbestos," says Davey. "It was in the paint on the walls and ceilings, in the floors and in lagging around pipes and equipment."
The method chosen to remove the paint was dustless blasting, which mixes water in with the blasting medium (in this case, recycled glass particles) to produce a slurry that can be collected and disposed of safely.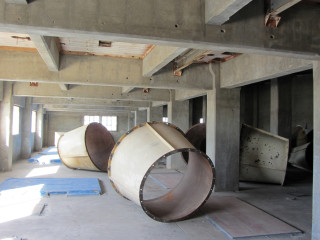 "The idea with dustless blasting is that you don't spread any asbestos fibres; they're all contained," says Davey.
The blasting was done in stages, with the area being treated completely sealed off before work commenced. This involved erecting temporary airtight enclosures which were smoke-tested to ensure their integrity.
Air extraction units – up to 20 for each enclosure – were used to create negative pressure within the working area, and operatives breathed clean air, supplied through air-lines from outside the enclosure.

"We monitored the air inside and outside the enclosures constantly," says Davey, "and each operative was equipped with their own personal monitor." This was a device which passes air over a removable slide in the breathing apparatus; the slide can be removed and analysed for asbestos particles, to give an indication of the concentration of fibres, if any, in the air.
All asbestos-containing material was carefully bagged-up and stored in secure lockable containers at the base of the building prior to removal to licensed landfill sites. After completion of the asbestos removal, the client's own UKAS-accredited analyst inspected each area to ensure no trace of asbestos remained.
Security was especially tight, with high security fencing erected around the entire 50 acre site and pedestrian access provided via automatic turnstiles; authorised staff were issued with electronic passes which allowed them through the barriers.
Within the perimeter of the site, the flow of people was also tightly controlled. Access to the building itself was only possible via mast-climbing hoists, specially-erected walkways and bespoke staircases erected both inside and outside the building. During the peak of site activity, Rhodar had 90 people working on site.
Rhodar completed the asbestos removal contract in November 2015 and sister company Bagnall is now embarking upon Phase II of the scheme, demolition of Zone C of the building.
"The demolition work Rhodar carried out was removal of old floors and internal brick walls, but the next phase is the demolition of the actual structure of Building C," explains Davey.
This is a façade-retention contract and Bagnall is currently erecting the steelwork structure to support the façade during and after demolition of the building's in-situ concrete frame.
This phase is scheduled for completion by the end of this summer.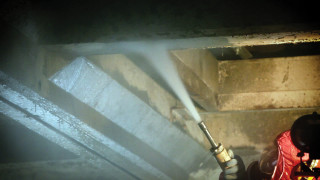 A regenerator's dream
Millennium Mills will form the centrepiece of the new £3.5bn Silvertown Quay redevelopment project, which got full planning consent from Newham Council in April last year.
Rhodar's contract to strip out and remove asbestos from the building was funded through a £12m grant from the Department for Communities & Local Government and is the first stage in the building's restoration, which is due for completion by 2018.
Silvertown Quays will deliver 3,000 new homes and up to 200,000m2 of commercial space. The developer, Silvertown Partnership, estimates that the development will contribute around £260m a year to the London economy.
Silvertown Partnership says that up to 20,700 new jobs will be created in the 10 years following completion, and of these, more than 40% will be for local people.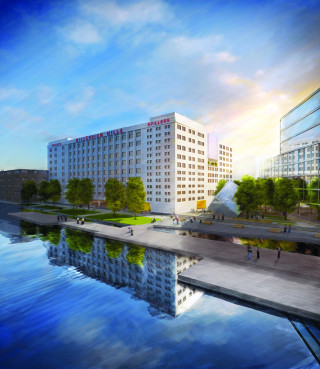 The vital statistics
Surface area of asbestos-contaminated paint:                  53,000m2
Area of timber flooring removed:                                      5,600m2
Brick walls demolished:                                                   2,040m2
Old mill equipment stripped out:                                   700 tonnes
Glass blasting medium consumed:                                424 tonnes
Asbestos-contaminated
waste removed for disposal:                                         660 tonnes
General waste removed for disposal:                             170 tonnes
Material recycled:
Timber:                                                                      160 tonnes
Metals:                                                                      700 tonnes
Brick rubble:                                                               650 tonnes
Got a story? Email news@theconstructionindex.co.uk