There are now more than 20 Econics working in London on construction-related duties. The first, an alloy-bodied tipper built for aggregates work, was delivered last summer; others commissioned since include tipper-grabs and skip-loaders. Owners include the likes of FM Conway, Riney and Cemex, who have all sought to demonstrate a contribution to improving cycle and pedestrian safety by using these vehicles.
The low-entry Econic has a deep, panoramic windscreen, fully-glazed kerbside door and a much lower seating position than a traditional construction chassis. The driver therefore benefits from a significantly improved field of vision, and finds it much easier to see and make direct eye contact with other road users, including particularly vulnerable bicycle riders.
Travis Perkins has three Econics to date. The latest arrival is a 6x2 Econic 2628LL in the colours of its Keyline division. The chassis has a steering rear axle for enhanced manoeuvrability and is fitted with a dropside body by Massey Truck Engineering of Sheffield, as well as a rear-mounted, 14-tonne/metre HMF loader crane. It operates from a depot in Canning Town, delivering heavy construction and civil engineering products across the capital.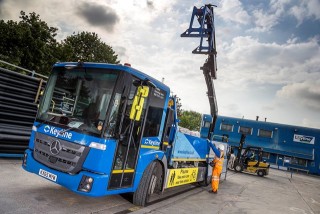 The company's first two Econics are also 26-tonners and work for its CCF business – one is based at Canning Town, the other at Borehamwood, in Hertfordshire. Both have curtainside bodies and carry truck-mounted forklifts for off-loading. They deliver sheeting and insulation materials.

All three trucks arrived via Wellingborough Dealer Intercounty Truck & Van; a fourth is to be delivered soon, which will be in the operator's familiar green and gold livery.
To further enhance visibility, Travis Perkins' vehicles are additionally equipped with cameras covering front, rear and both side views, as well as Sidescan systems which sound an audible warning to the driver and the cyclist if a bike moves up the nearside of the truck.
Travis Perkins' central fleet manager James Taylor said: "The Econic is ideally suited to work in urban environments, where we share roads with cyclists and pedestrians, along with other traffic.
"These trucks represent something of a departure for us but we received excellent support from Mercedes-Benz and Intercounty throughout the specifying and ordering process. As a result they are ideally tailored to deal with the challenging conditions they face in daily service. The vehicles have been well received by our drivers who find the low seating position and extra all-round field of vision aids both safety and comfort."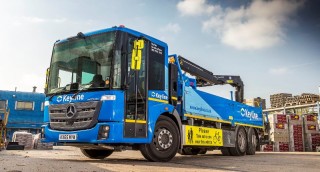 Got a story? Email news@theconstructionindex.co.uk