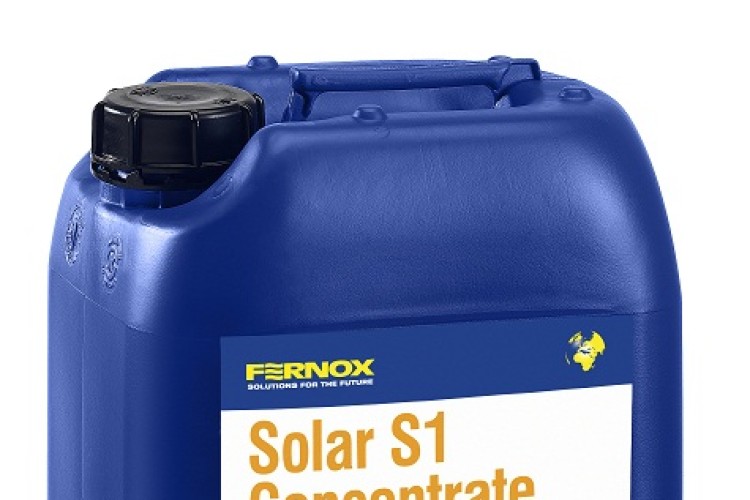 Developed to provide the ultimate convenience for experienced installers, the product is available in easy to transport 5 and 10 litre packs, is diluted with mains water and will protect a system for up to 10 years. 
All solar thermal systems are vulnerable to the damaging effects of frost, corrosion and limescale, which left untreated, can cause a system to fail. Installers should therefore always protect a system with either the original Fernox Solar S1 or the new Solar S1 Concentrate version as soon as a system is installed to ensure long-term efficiency.
Prior to dosing a system, the inhibited heat transfer fluid should be diluted in a ratio of 1:1 with mains water and circulated around a pre-drained system. This will protect the solar thermal system when the product is in both gas and liquid phases, in temperature excesses of 360ºC and will provide frost protection to -28ºC.

Fernox Solar S1 is suitable for all makes and models of solar systems. For rapid application, installers should dose using the Fernox Solar Flow Pump, which is designed to facilitate the easy filling, cleaning and flushing of solar heating circuits.  Just one measured quantity of Fernox Solar S1 Concentrate will treat the system immediately and will not require topping up for a minimum of 10 years.
Francine Wickham, Global Marketing Director of Fernox commented: "To ensure the long term efficiency of a solar thermal system, it is vital to provide complete protection from day one. With Fernox Solar S1 Concentrate you can ensure trouble-free operation for the long term".
Available in 5 and 10 litre containers, Fernox Solar S1 Concentrate provides not only a convenient method to dose and protect a solar thermal system, but the smaller pack sizes makes the packaging environmentally friendly. 
Got a story? Email news@theconstructionindex.co.uk