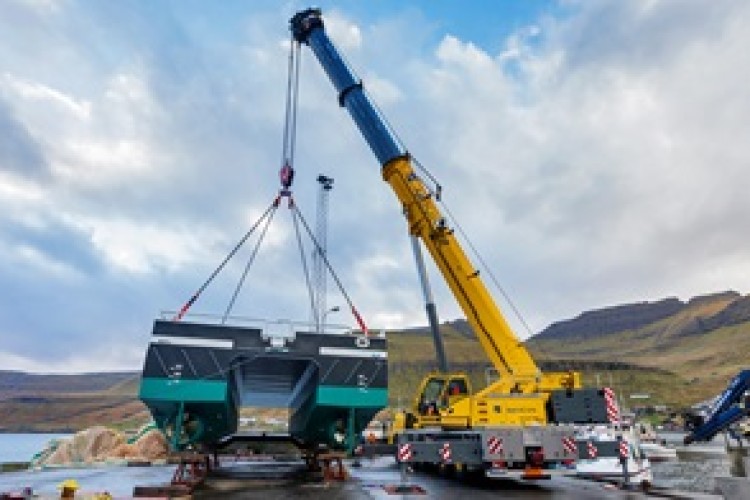 Manitowoc distributor UN Mobilkraner delivered the crane to ArtiCon, complete with a maintenance and service package tailored to the remote island location.
ArtiCon was established in 2001 and has already grown to employ some 200 people. The contractor works on a variety of construction assignments and demands flexible equipment that is efficient in all types of applications.
Jón Sigurdsson, manager and partner at the company, said ArtiCon needed a mobile crane that is easy to maneuver on the unique terrain of the Faroe Islands, which is an archipelago off of the coast of Denmark.

"We already had a 75t rough-terrain crane, but we needed one with more lifting capacity," he said. "The new Grove GMK5250L has enough capacity for our applications, and it meets other demands, such as navigating the terrain here on the Faroe Islands where we have many steep hills. This new crane is extremely mobile and easy to manoeuver, and the VIAB turbo retarder clutch will decrease our operating costs, thanks to its reduced fuel consumption and wear-free starting and braking."
Johnny Thomassen, an operator with ArtiCon, added: "Upon delivery of the crane from the factory in Germany, I spent a week in Denmark, where the technicians at UN Mobilkraner instructed me in handling the crane and its features. This has been an amazing experience, and I really felt 'dressed for the occasion' when I returned to the Faroe Islands."
"The cooperation with UN Mobilkraner has worked really well," Sigurdsson said. "We feel that they have made an effort to meet our requirements and needs. Amongst others, they have tailored a maintenance agreement for us, which means that in the end, the distance between Denmark and the Faroe Islands is not a barrier for a good working relationship."
Got a story? Email news@theconstructionindex.co.uk