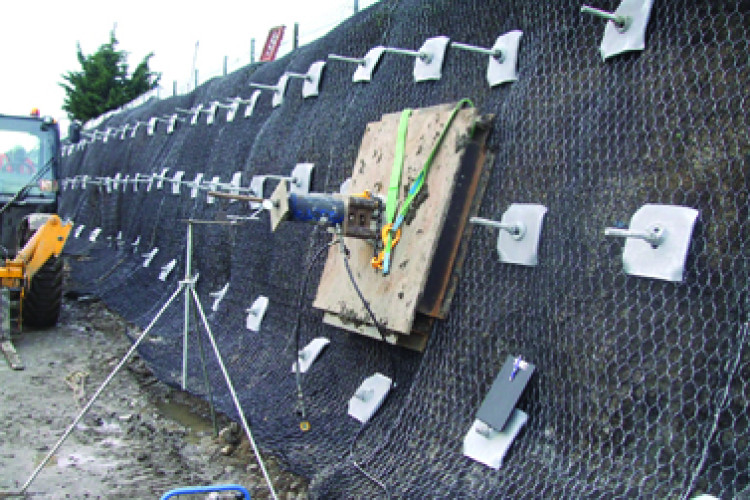 Instead of the reinforced concrete and piled walls included in Irish Rail's initial tender documents, BLP were able to design faster and more efficient solutions that combined a number of different ground engineering techniques, each the most appropriate for that particular section.

The overall Kildare Route Project consists of a €340m upgrade to the 50 km rail link between Heuston Station in Dublin and Kildare Station.

SIAC Construction was awarded Contract 1 of the project, a €27m widening of the rail corridor – from two to four tracks – between Le Fanu Road and the Fonthill Road. The contract was awarded on a traditional basis.

Amongst other items, the contract included 1.2 km of reinforced concrete and piled walls to retain existing private properties in the Cherry Orchard area, and it was for this aspect of the project that SIAC called upon BLP's geotechnical engineering expertise.

"We were employed at the tender stage," explains Andy Wilkins, Associate Engineer at BLP, "and this gave us the opportunity to engineer value into the project."

"Instead of looking at how to apply one particular technology along the entire section irrespective of ground conditions and constraints, we looked at those issues and set about developing alternative designs that would make use of whichever individual techniques were most appropriate."

The solutions proposed ranged from soil nailing and gabions to king wall posts. These alternatives, accepted by the design team, provided significant cost and programme savings and played an important role in terms of helping SIAC secure the contract.

"By involving us at the tender stage, SIAC were able to offer their client a value engineered solution," says Andy "In simple, bottom line terms, we were able to offer a significantly lower cost per linear metre compared with piled walls. Of course, fastest and cheapest doesn't necessarily mean best, but we were able to demonstrate that our solutions were adequate, appropriate and suitable to the ground conditions on each section."

BLP provided detailed design for the solution at construction stage, and were also retained for construction supervision. As per the terms of the tender, the work – which by its very nature had to be carried out in close proximity to the rail line – was successfully completed without interrupting normal services or having to apply speed restrictions.
 
Got a story? Email news@theconstructionindex.co.uk