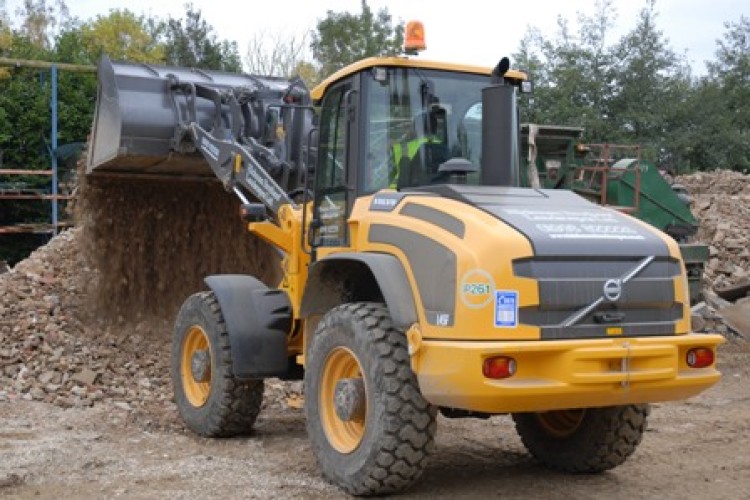 The machine is also the first compact loading shovel to be sold by Volvo's utility dealer, SM Plant Limited.
Formed in 1990 from a partnership established in 1978 by brothers Fred and Tom Hickman, Hickman Brothers has built up a reputation for providing design, construction, hard and soft landscaping as well as environmental improvements on a commercial scale, contracting to local councils as well as private domestic projects across much of England. "Our business generates waste on a commercial scale," says Terry Hickman (Tom's son and company secretary). "On all of our contracts we retrieve all the residual waste whether it's green waste, soils, rubble, concrete or wood so it's essential to have a robust and reliable machine to handle both incoming and outgoing processed materials. The previous machine wasn't up to the task so we looked at the market for a purpose built loading shovel," he continued.
The 8.5 tonne wheeled loader from Volvo was chosen after a successful demonstration and a competitive evaluation process and replaces an outgoing tele-handler. Its primary duties will be processing all the incoming diverse range of materials, loading screens and crushers, rehandling material on site and loading material out either by vehicles or into industrial sized bags for DIY and other outlets to the landscaping trade. The L45F has been supplied with a standard 1.3m³ general purpose bucket to handle the heavier material on site such as rubble, concrete and stones; a 2.0m³ light materials handling bucket for handling soils and a set of pallet forks. Thanks to the Volvo hydraulic quick hitch, the attachments can be changed within seconds. In addition a Groeneveld automatic lubrication system has been specified for the machine. "It's an initially high cost option but experience has shown that in this application having this feature pays dividends in the long run," says Mr Hickman. "This is our first experience with a loading shovel and we have high expectations of it going forward. So far we have been impressed with our new Volvo."
The L45F along with its bigger brother, the L50F, are two relatively new, mid-sized wheeled loaders joining Volvo Construction Equipment's F series line up and are the first of a new breed of loader to emerge from Volvo's design team. Most notably, the design of the rear chassis with its sloping engine hood - thanks to the transverse mounted 4.8 Tier III engine and hydrostatic motor, provides superb visibility all around the machine. The operator's environment has been recognised as a key factor in achieving high productivity and the Volvo Care Cab is at the forefront of delivering a high level of operator comfort. All the machine's controls and functions come easily to hand and air conditioning is of course standard. The engine's output of 100hp is superbly matched to the hydrostatic transmission allowing full power shift under load when changing direction and between speed ranges. As with its bigger brothers in the range the L45F sports a Torque Parallel (TP) loader linkage which provides smooth, parallel lift, high roll back torque and good lifting power throughout the lift cycle. The Volvo hydraulic attachment bracket facilitates the easy change over of attachments.
The Volvo L45F and L50F wheeled loaders feature separate power steering and load-sensing hydraulic pumps. The advantage of this is that separate pumps ensure full steering power is achieved, regardless of the load on the main hydraulic pumps. Oil flow on the load-sensing pump automatically adjusts to match work demand. The result is lower fuel consumption during lighter work – along with no compromise in performance when operating in tough conditions or demanding applications.
Besides its commercial contracting for hard and soft landscaping, design and construct services, Hickman Brothers' Landscapes also operate a small self drive plant hire business and a recycling division from its base and headquarters just outside Burford, Oxfordshire.
SM Plant Ltd is the dealer for Volvo utility equipment including compact excavators, compact loaders and backhoe loaders covering the Midlands and is headquartered in Rugby, Warwickshire.
Volvo Construction Equipment Division markets wheeled loaders, articulated haulers, hydraulic excavators, graders, Volvo utility equipment and Volvo road equipment products in the U.K. There are eight strategically placed customer support centres and a network of utility equipment dealerstoensure high quality customer support is maintained throughout the country.
Got a story? Email news@theconstructionindex.co.uk