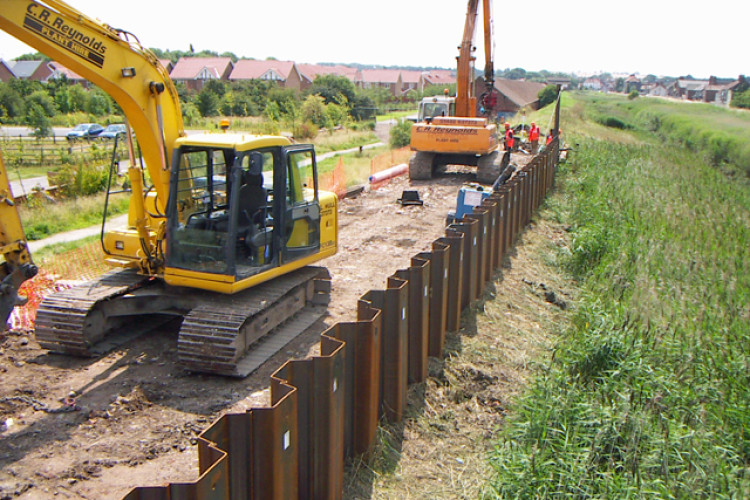 The National Audit Office (NAO) says that although the Environment Agency has improved the cost effectiveness and prioritisation of its flood risk spending, its £606m budget for flood risk management is simply not enough to meet the maintenance needs of its flood defences.
An NAO report today says that in the areas where maintenance of flood defences has been given a lower priority – typically, where there are few homes – this will increase the danger of deterioration of defences, thereby increasing flood risk.
It says the five million properties are at risk of flooding, as of December 2013
The government made an extra £270m available following the winter storms in 2013. This included an additional £35m for asset maintenance in both 2014/15 and 2015/16. In cash terms, this has restored maintenance funding to 2010/11 levels, the NAO says. However, this represents a real terms decrease of 6% between 2010/11 and 2014/15. Excluding the one-off funding of £200m provided following the winter floods, total funding decreased in real terms by 10% in the same period.
The NAO praises the Environment Agency, saying that its construction of new defences provided good value and its systems for evaluating priorities were sound. But with insufficient funds, lower priority projects cannot go ahead.  As of August 2014, 1,356 asset systems (50% of the total) with a lower benefit-cost ratio were being maintained to a minimal level. These are likely to deteriorate faster as a result, increasing replacement costs in the long term where assets are retained, the NAO says.

NAO chief Amyas Morse said: "Against a background of tight resources, the Agency has improved how it prioritises its spending, including on the maintenance of flood defences. On this measure the Agency is achieving value for money. However, if we set aside the emergency spending in response to last year's floods, and give due credit for efficiency improvements, the underlying spending on flood defences has gone down. The Agency, as it recognises, will need to make difficult decisions about whether to continue maintaining assets in some areas or let them lapse, increasing in future both the risk of floods and the potential need for more expensive ad hoc emergency solutions. The achievement of value for money in the long term remains significantly uncertain."
Labour's Margaret Hodge, chairman of the House of Commons Public Accounts Committee, weighed in: "It is alarming that the Department for Environment, Food & Rural Affairs has cut spending on flood protection by 10% between 2011/12 and 2014/15 and it had to react with an emergency bailout of £270m following the winter floods in 2013. Surely this short-term reactive approach is not value for money in the long-term."
However, the government disputed the NAO's assertion that the underlying spending on flood defences had gone down.
Floods minister Dan Rogerson said: "The NAO has drawn conclusions on funding based on inappropriate comparisons. We have invested £3.2bn in flood management and defences over the course of this parliament which is a real term increase and half a billion more than in the previous parliament. This has allowed us to protect 165,000 families and households in vulnerable areas.
"‪Not only are we spending more than ever before, but we are also ensuring that our investment strategy will deliver long-term value for money. Next month, we will set out the first ever six-year programme with record levels of investment, which will protect another 300,000 homes by the end of the decade."
Got a story? Email news@theconstructionindex.co.uk