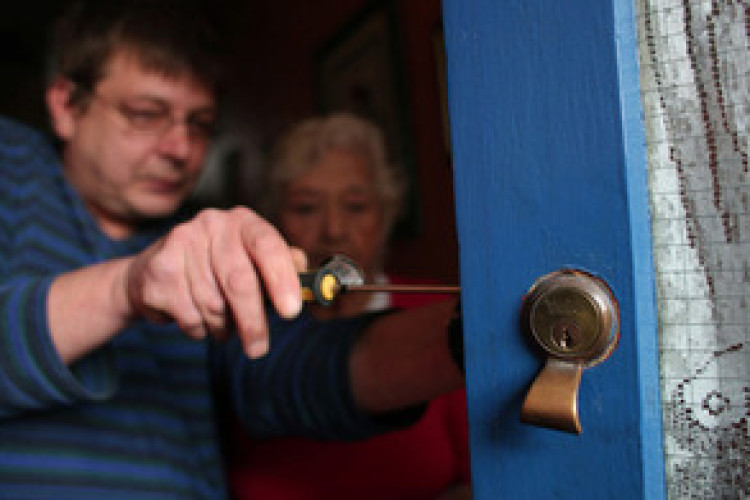 The legislation has been dubbed Florries' law after a 93-year-old woman who was hit with a £50,000 bill by her local authority for roof repairs that weren't even needed.
The new law caps the amount councils can charge leaseholders for repairs to their homes.
Outside London the maximum level will be levied at £10,000 in any five year period. Within London the limit is £15,000. Any costs above this will have to be borne by the local authority itself.
Local government secretary Eric Pickles vowed to introduce the cap after his constituent Florence Bourne went to her grave with the shame of debt around her neck.
Newham Council based its fee on a guess because it had not conducted a proper survey on the first-floor flat. It later emerged the roof would have lasted another 40 years and the work was unnecessary. Florrie's family say she 'died of shame' because she had never been in debt in her life and simply could not afford to pay the bill for work on her Brentwood home.
In response, Mr Pickles ordered officials at the Department for Communities & Local Government to review legislation governing council house repairs.

Mr Pickles said: "I was appalled at Florence's treatment and was determined that no other leaseholder should ever have to endure the stress and hardship she experienced in the final weeks of her life.
"Florence served her country as a WAAF in the Second World War, raised a loving family and believed in paying her way, so to be faced with this excessive fee was more than she could stand.
"Charging excessive amounts for council house repairs not only targets some of the most vulnerable people in society, it can amount to a failure in a local authority's duty of care.
"Under Florrie's law, authorities will no longer be able to levy huge bills for future government-funded repair work on people who simply have little or no hope of meeting their demands."
Mrs Bourne died following a heart attack she suffered when she was startled by the sound of roof tiles falling onto her balcony during the works that were later proven to be unnecessary. A leasehold valuation tribunal found last year that Newham Council had not commissioned a proper survey of the flat. An independent surveyor commissioned after Mrs Bourne's death found that the roof would have lasted another 40 years.
Got a story? Email news@theconstructionindex.co.uk