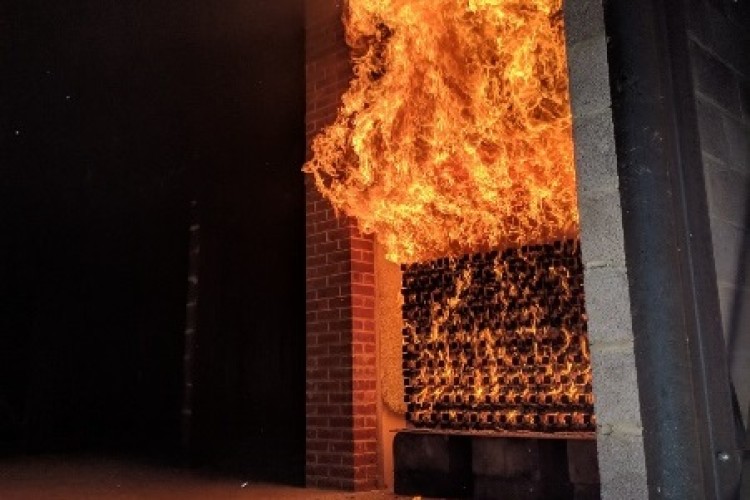 The move comes after the Ministry of Housing issued new guidance to building control bodies on how they should be assessing building regulations compliance of external wall cladding systems
Building control bodies have been told only to accept external cladding systems that either contain only insulation products and filler materials of limited combustibility or comply with the performance as currently specified in the BS8414 test.
The Fire Protection Association (FPA) welcomes the move but is concerned about the lack of testing capacity in the UK which could result in restricted availability and delay in the approval of building plans.
It has therefore opened up its research and experimental test rigs at its Fire Experimental Unit in Moreton-in-Marsh to conduct full scale 8414 tests. The two rigs were built after the 2017 Grenfell Tower fire threw up concerns with how 8414 testing was undertaken.
In addition, the FPA has also built a half-sized rig that can be used for appraising bespoke features, for example the addition of a window or other opening, to more closely replicate a real-life situation. 
FPA managing director Jonathan O'Neill said: "The FPA have recently been instrumental in guiding research in the testing of external cladding systems and the use of non-combustible materials. In order to help facilitate a change the FPA have created capacity within its testing facilities and, as a not-for profit organisation, provides an independent, timely, cost-effective service, administered by fire experts."

The Ministry of Housing, Communities & Local Government (MHCLG) wrote a circular letter to the heads of Local Authority Building Control and approved inspectors on 10 September 2018 to draw attention to issues about assessments of external wall cladding systems pending the outcome of the ongoing Building Regulations review and consultation.
Section 12 of Volume 2 of Approved Document B (Fire safety –buildings other than dwelling houses) sets out two ways for duty holders to demonstrate compliance with the requirements of Paragraph B4 of Schedule 1 (External Fire Spread) to the Building
Regulations 2010 as amended, in relation to buildings with a storey 18 metres or more above ground level.
These are:
For any insulation product, filler materials (not including gaskets, sealants and similar) etc used in the external wall construction to be of limited combustibility (as defined in Table A7 of Appendix A of Volume 2 of Approved Document B); or
For the external wall to meet the performance criteria given in the BRE report Fire performance of external thermal insulation for walls of multi storey buildings (BR 135) for cladding systems using full scale test data  from BS 8414-1: 2002 or BS 8414-2: 2005.
Bob Ledsome, deputy director of the technical policy division of MHCLG's Building Safety Portfolio wrote: "The government takes the view that, pending decisions following the consultations, and the publication of any new standard, building control bodies should only accept evidence of either of these two ways to demonstrate compliance.  Building control bodies should look for clear evidence of the classification of materials used, to meet the definitions in Table A7 of Appendix A; or clear evidence of the results of tests carried out in accordance with BS 8414.  Test results must be relevant and appropriate for the proposed external wall construction.  Building control bodies should not accept proposals which lack such evidence."
Got a story? Email news@theconstructionindex.co.uk