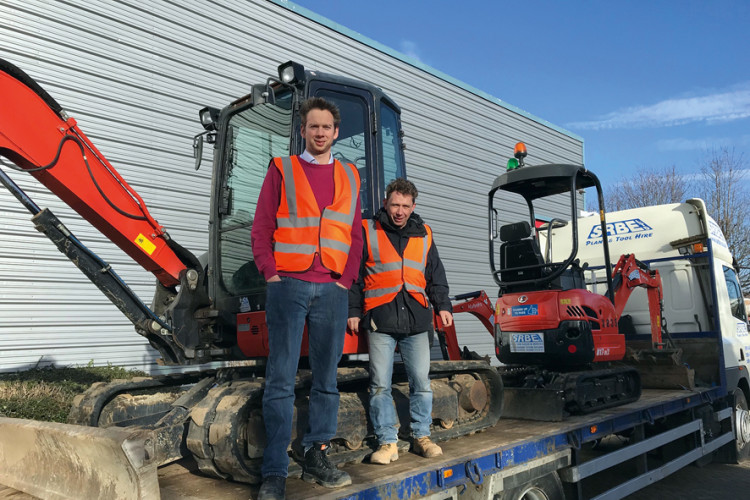 It seems that most plant hirers are either born into the industry or they stumble into it. There can't be many ambitious young entrepreneurs who, having considered the infinite variety of business opportunities open to them, decide that plant hire is their best bet.
There is at least one, however. Francis Marx is the founder and managing director of the Independent Plant Hire Group (IPHG), a business set up less than 18 months ago with the aim of creating a network of regional plant hire businesses with a focus on the earthmoving sector.
Marx has no previous experience in plant hire, earthmoving or construction of any sort. He studied engineering at Bristol University, emerging in 2005 with an MEng (First Class) degree in electronic and communications engineering.
But after leaving university, instead of pursuing a career in electronic engineering, Marx entered the world of commerce, working as a consultant for a number of big corporations including Coca-Cola Enterprises, Google and Virgin Holidays, where he became interim head of strategy and development.
Business strategy quickly became his speciality and in 2013 he enrolled at Cranfield University to study corporate finance for growing businesses. His ultimate aim, he explains, was to run his own business:
"I always wanted my own business, as did a lot of the people I was at university with. But while they went off and joined start-ups, I found that all my work was focused on going concerns and making them run more efficiently," explains Marx.
As a consultant, Marx found himself working in a broad range of industries, often with blue-chip clients. These ranged from some of the biggest telecoms brands, through foreign exchange giant Travelex to niche fruit juice maker Innocent Drinks.
But what Marx wanted was a business of his own that he could work some magic on. And for this he enlisted the help of a friend, Mark Colley, founder of a London-based investment business called Merino Private Equity.
Colley joined Marx as his investment partner and they set about finding suitable businesses that they could acquire. At this stage, they had not even identified an industry to target.
"Then in late 2015 Mark told me about a business he'd found that was well established and doing pretty well but whose owners were nearing retirement and were looking to sell," says Marx.
That business was SRBE, a Milton Keynes-based plant hirer with a sideline in building materials sales. It was just what Marx had been looking for.
"I was attracted to the plant hire sector for two reasons," he explains.
"First of all, I felt that with many newer sectors growing much faster, many of my peer group had lost focus on traditional sectors in the UK which still offer great opportunities for employees and business owners – and for which technology will be more of an enabler than a disrupter.
"Secondly, I was particularly attracted to hire because of the strong commercial aspects, such as asset lifecycle management, price, utilisation and so on."
Marx also confesses to a weakness for the equipment itself: "My degree was in engineering and I spent rather too much time with my Lego when I was little," he admits.
SRBE, established in 1969, is a well-run business that has steered a steady, if not exactly ambitious, course for the best part of 50 years. During SRBE's lifetime, a great many plant hire SMEs have been launched, grown rapidly and then foundered.
But while over-arching ambition and uncontrolled growth can often spell disaster for a young business, a well-established company like SRBE, with a loyal customer-base, is in a strong position from which to grow successfully. With his business development consultant's hat on, Marx thought he saw a lot of unrealised potential in the company.
However, Marx's plan is not to take one business and grow it into an empire. His aim is to build a network of local businesses that operate semi-autonomously under a corporate umbrella that allows optimum efficiency, especially in back-office activities.

So, following the acquisition of SRBE in December 2016, Marx and Colley changed very little at the company. "The business had the capability to manage itself and for the first six months we did absolutely nothing," he says.
"We managed to retain nearly all the staff; there are 26 people on the payroll and we lost only one driver and one mechanic. Most of the employees have been with the business for a long time and there was a strong sense of loyalty within the company."
After a few months, Marx made a few minor changes to the way the business was run, but otherwise he left it to operate as usual.
In January 2018, roughly a year after SRBE, Marx announced his second acquisition: Jovic Plant Hire, based in Essex. Like SRBE, Jovic had been trading continuously for almost 50 years and had a strong track record as a local supplier.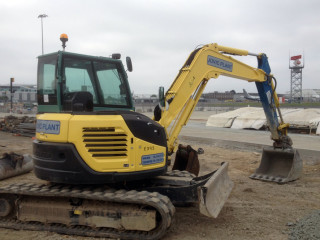 Upon completion of the Jovic acquisition, Marx changed the name of his business from SRBE Investments to Independent Plant Hire Group, or IPHG. Both SRBE and Jovic, however, retain their existing trading names and identities – a key element of Marx's strategy:
"The worst thing we could possibly do is re-brand and move forward as a new plant-hire company," he says. This is often what happens when a business starts expanding quickly by acquisition, but Marx believes that to try and re-shape an existing and successful business risks discarding its identity and losing one of its strongest assets.
Both SRBE and Jovic therefore continue today almost unaltered by their change of ownership. Where centralised ownership will help, says Marx, is in the less 'customer-facing' activities such as purchasing, equipment servicing and finance.
He also expects IPHG's constituent members to interact and cross-hire in order to optimise fleet utilisation. "Both companies have a fleet of diggers and dumpers, but they also both have their own areas of expertise," says Marx. "For example, Jovic has quite a big fleet of pumps, while SRBE has a fleet of telehandlers. That gives both companies a potential extra string to their bows."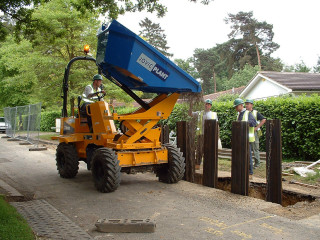 With just two businesses under the IPHG umbrella, Marx can't say he's got a network just yet; but he is working on it. IPHG is actively seeking other businesses that would fit well into his business model.
"It's no secret that we're going out to seek more businesses, and we have some on-going conversations with people who've been in the business a long time," says Marx.
He says that ideally he'd like to add one or two new businesses to the IPHG portfolio each year for the next few years. Group turnover is currently in the region of £10m; Marx wants to see that triple over the next two or three years.
The sort of businesses he's looking for are bread-and-butter construction plant hirers, rather than specialists. "For the moment, the focus is going to be on earthmoving plant. Margins are reasonably good, and earthmoving is doing better than most," says Marx.
As the business grows, it might make sense to move into more specialist areas, says Marx, but "getting scale" is more important early on – not least when it comes to establishing a strong position with equipment manufacturers.
This article was first published in the February 2018 issue of The Construction Index magazine, which you can read for free at epublishing.theconstructionindex.co.uk/magazine/february2018.
UK readers can have their own copy of the magazine, in real paper, posted through their letterbox each month by taking out an annual subscription for just £50 a year. See www.theconstructionindex.co.uk/magazine for details.
Got a story? Email news@theconstructionindex.co.uk