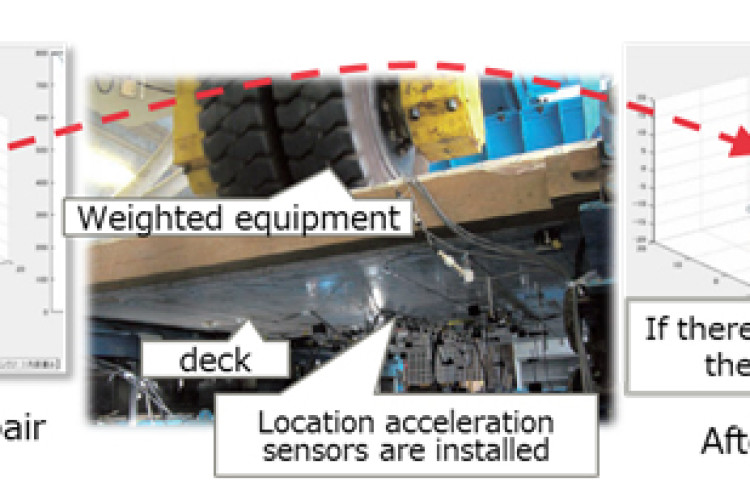 The technology, which is implemented with the help of artificial intelligence technology, is designed to improve maintenance and management by making it possible to carry out bridge inspections remotely and with reduced manpower.
Fujitsu and Fujitsu Laboratories have come up with the system, which uses 'Fujitsu Human Centric AI Zinrai technology' – the company's approach to artificial intelligence - to analyse vibration data recorded by the sensors.   
The technology has been validated using data obtained from verification tests of the fatigue degradation of bridges carried out by the Research Association for Infrastructure Monitoring System (RAIMS). Fujitsu will now conduct trials using vibration data from actual bridges, with the goal of real-world usage by around 2018.

The driver for the work was that many bridges built in Japan's period of high economic growth continue to deteriorate. Work required to maintain and manage them has increased rapidly, with accompanying problems including rising maintenance costs and a shortage of engineers. Inspections that rely only on information gathered visually can only identify abnormalities or anomalies appearing on the structure's surface; inspectors are consequently unable to grasp information regarding the degree of internal damage.
With the methods used until now, accurately understanding the degree of damage within the interior of the deck was an issue, said Fujistsu. Now, by expanding Fujitsu Laboratories' proprietary AI technology for time-series data, Fujitsu and Fujitsu Laboratories have developed technology that can discover anomalies and express the findings in numerical terms. As a result, they can estimate degrees of change that demonstrate drastic changes in the status of objects such as bridges. The technology learns from the geometric characteristics extracted from complex, constantly changing time-series vibration data collected by sensors.
The results of the testing showed that the geometric characteristics extracted from the vibration data by this technology would appear as a single cluster when the bridge was intact, but the shape changes when the bridge had developed internal damage. Moreover, it was confirmed that the degree of abnormality and the degree of change that can be calculated.
Got a story? Email news@theconstructionindex.co.uk