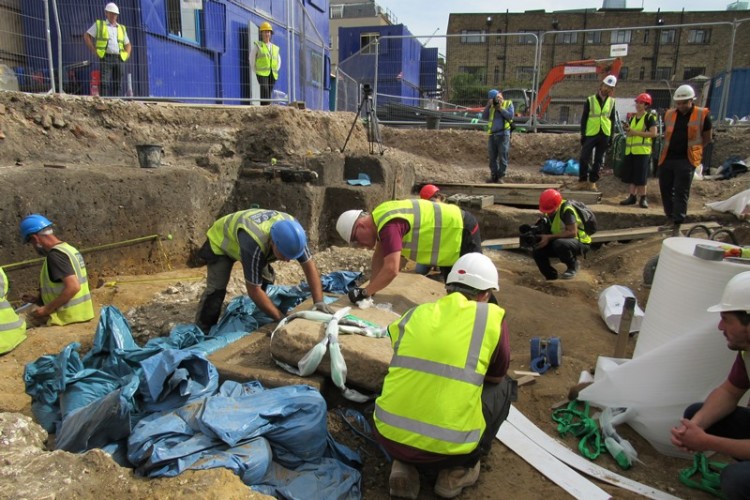 The discovery at Galliard's Harper Road site near Elephant & Castle is only the third of its kind in London; two similar late Roman sarcophagi have been discovered in their original place of burial in St Martin-in-the Fields near Trafalgar Square (in 2006) and in Spitalfields (in 1999).
The archaeological excavation is being carried out by Pre-Construct Archaeology, appointed by CgMS on behalf of Galliard Homes.
The excavation, which began in January this year, revealed a large robber trench around the coffin and found that the lid had been moved, suggesting that the coffin had been discovered and robbed in the past. However, it is possible that only the precious items were removed, and the less valuable artefacts, such as the body itself, still remain within the stone sarcophagus.
Southwark is one of only two London borough councils with an in-house archaeologist – City of London being the other. Southwark Council and has planning policies to ensure ancient history is identified, protected and managed. The Harper Road excavation is just one of the many archaeological projects that are currently running across Southwark.

Galliard Homes is building the Trinity Village development in partnership with Acorn Property Group and Otterlo London. Chief executive Stephen Conway said: "This is a remarkable discovery and I am delighted that we were able to work with the council to ensure the safe passage of this archaeological gem to the Museum of London."
Southwark Council archaeologist Gillian King said: "In my long archaeological career I have excavated many hundreds of burials, but this is the first Roman sarcophagus I have ever discovered, still surviving in its original place of deposition. I have seen them in museums, but I think part of me believed that they had probably all been found by now.
"It really is a very special discovery.  Personally, I find it really fascinating to contemplate that this area – which we are now so familiar with – was once, during the Roman period, so completely different.  It really does make me feel very honoured that my role at Southwark Council contributes to protecting amazing archaeological treasures like this, and our work means that we can ensure that the historic environment is championed and preserved for the enjoyment of us and future generations."
Got a story? Email news@theconstructionindex.co.uk