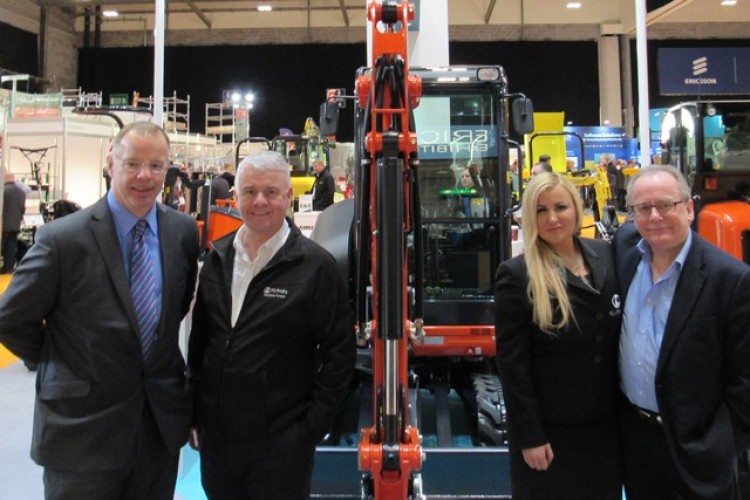 The Glasgow based hire company bought 900 machines from Kubota in 2016 and has another 300 on order.
Kubota said that GAP was now its biggest construction industry customer in the world.
GAP Hire Solutions plans to gradually replace all competitor machinery until Kubota is the exclusive supplier of its micro and mini equipment, such is the demand for the brand. The agreement will result in GAP Hire Solutions becoming Kubota's number one construction customer worldwide and emphasises its trust in the performance and reliability of Kubota machines. 
GAP managing director Iain Anderson said: "Over the last 40-plus years we've built a great relationship with Kubota and after purchasing such a huge quantity of excavators last year, we felt this exclusive agreement would be immensely beneficial to both parties as we move forward.

"To have a supplier that supports us in the way Kubota does is fantastic, which is why this decision was any easy one to make. The reliability of the machines ensures we can carry out day-to-day business without the worry of them breaking down or needing drastic maintenance.
"As well as the impressive aesthetic aspects of the Kubotas, the underlying mechanics of the machines are fantastic and the residual value is the best on the market to date. One feature of the excavators that stand out is the sheer power and strength of the engines. They're virtually bullet proof and many of the other pieces of equipment we work with, such as dumpers, also run on Kubota diesel engines."
Kubota UK managing director Dave Roberts said: "The fact that GAP Hire Solutions is now Kubota's biggest construction customer worldwide says everything about the strength of our relationship with them. It's a pleasure to partner with a great company like GAP Group and we're delighted to continue as the sole supplier of excavators for the foreseeable future."
Got a story? Email news@theconstructionindex.co.uk