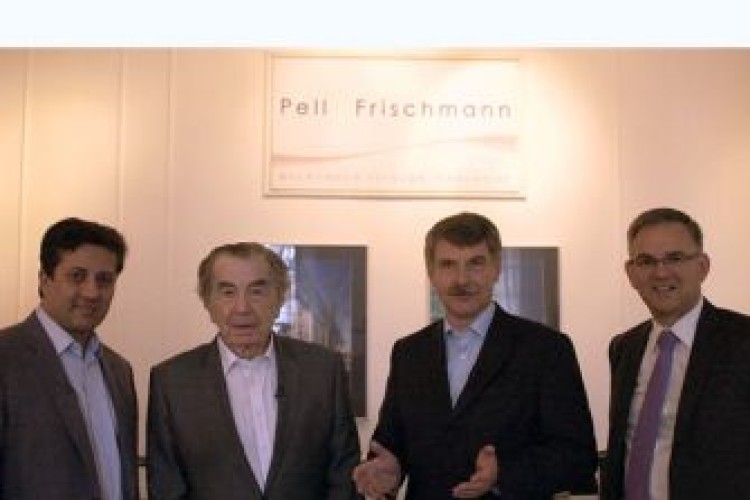 Dr Wilem Frischmann, Pell Frischmann chairman for the past 47 years and now in his mid-80s, will step aside and take on a new role as strategic advisor to the board.
Existing senior management team members Tushar Prabhu and Richard Barrett will become co-chief executives.
RAG-Stiftung Investment Company has bought the stakes in the firm previously owned by the Frischmann family and part of the Prabhu family.
Pell Frischmann projects include the design of the Centre Point tower in London, the refurbishment of the Bank of England, the University of Oxford's New Bodleian Library and the Forth Rail Bridge Restoration. Overseas projects include Delhi Airport, India's Low Carbon Smart Cities and one of the biggest rebuilding projects in Iraq, the Mid-Western Water Supply project.
RAG-Stiftung Investment Company specialises in taking positions in companies in four sectors: consultancy, automation, machine manufacturing and high-tech services.

Wilem Frischmann joined CJ Pell & Partners in 1958 and became partners in 1961 at the aged of 30. He has been chairman since 1968.
RAG-Stiftung Investment Company managing director Jürgen Wild now succeeds him as chairman.
Mr Wild said: "Our strategy is to invest in market leading firms with an international reach and a strong existing management team that delivers steady returns and growth. Pell Frischmann fits our criteria perfectly. A highly respected engineering consultancy that has an enviable reputation of combining cutting edge technical expertise with superior customer service."
Dr Frischmann said: "Throughout my career I am honoured to have worked with some of the best engineering minds on some of the world's most exciting engineering projects. Pell Frischmann has grown to become one of the most respected consultant engineers in the business, and I am delighted that we have found an investment partner to help continue this legacy and provide an ideal platform for further growth."
RAG-StiftungBeteiligungsgesellschaft (RAG Foundation Investment Company) was established in 2014 as part of the RAG Foundation (Stiftung) as a long term investment partner for industrial companies. RAG-Stiftung Investment Company is tasked with investing in enterprises that generate around €50m-100m in sales annually, are well-positioned internationally and are active in growing niche markets. The RAG-Stiftung itself, founded in 2007, is a foundation created in co-operation with German federal and regional government to ensure that the winding down of the coal mining business of the RAG Corporation is conducted in a manner that can be considered socially acceptable. From 2019, the RAG-Stiftung will finance all RAG's perpetual coal mine management obligations.
Got a story? Email news@theconstructionindex.co.uk