To many people an 'entrepreneur' is a charismatic swashbuckling visionary, a business genius like Richard Branson or Alan Sugar.
But most are more like the nervous supplicants squirming uncomfortably in front of the likes of Peter Jones and Deborah Meaden in the Dragons' Den.
They all have to start somewhere. A good idea and the belief in yourself will get you only so far; somewhere along the way, even the most confident entrepreneur needs a helping hand.
Three hundred and fifty-one years ago French finance minister Jean-Baptiste Colbert exhibited some real entrepreneurial flair and set up France's first factory to produce mirror-glass. He was lucky: his "Dragon" was the government, which wanted France to be self-sufficient in glass production rather than dependent, as it had been, on Venetian producers.
Today, Colbert's brainchild is called Saint-Gobain and is one of the world's leading producers not only of glass, but also numerous other building products.
And so last year, to mark the company's 350th anniversary, Saint-Gobain UK launched a scheme to help today's entrepreneurs thrive and grow.
The Saint-Gobain Entrepreneurship Foundation provides 12 months of free training, mentoring and support for a couple of dozen carefully-selected small construction firms, equipping them with the business and management skills necessary to develop their enterprises.
Although Saint-Gobain is an industrial giant, it acknowledges that SMEs are the backbone of the economy, citing research showing that they make up 99% of the 4.8 million businesses in the UK and employ over 24 million people.
Saint-Gobain also recognises that small-to-medium sized contractors make up the bulk of its customers and an initiative that nurtures the most promising among them will pay dividends up and down the supply chain.
But as any aspiring entrepreneur discovers, there are many challenges that come with running your own business, including staff recruitment, building customer relationships, marketing and money management. And many small businesses don't have the time or the resources they'd like to develop these areas.
Cash-flow is a particular problem for many small businesses. Saint-Gobain's research indicates that SMEs in the UK construction industry were owed around £7bn in unpaid invoices last year. This hampers organic growth and means that small businesses often struggle to secure financial investment from hesitant banks.
To help it set up its Entrepreneurship Foundation and provide the appropriate training for its business protégés, Saint-Gobain approached the CITB which helped to develop the course content and now delivers most of the training. The courses for the first tranche of trainees was delivered in two locations: the company's new Technical Academy in Flitwick, Bedfordshire, and at its Greenworks Training Academy in Birmingham.
Saint-Gobain invited small specialist contractors from amongst its customer base to apply to be among the first year's intake of trainees. The intention was to select up to 25 companies to take part; the final selection was 22.
"There was a strict selection process for the first participants," explains Shenaaz Chenia, director of customer and community training with Saint-Gobain. To fit the criteria, companies had to have fewer than six direct employees, an annual turnover of less than £350,000 and they had to be trading with a Saint-Gobain brand for more than six months prior to their application.
"But most important was that they had to have the potential to grow and the ambition to make it happen," says Chenia.
Each participant in the programme is assigned a Saint-Gobain mentor to help assess their needs and introduce them to useful contacts within the organisation. This is in effect an extension of the company's existing in-house mentoring scheme and the "Support for Industry" initiative which forms part of its CSR strategy.
Saint-Gobain pays CITB for delivering the training courses but the delegates pay nothing.

Having completed its first 12 months Saint-Gobain is now reviewing the performance of the Entrepreneurship Foundation while preparing to select the next cohort of delegates. Assessing the success of the initiative is not easy, though, says Chenia.
"It's hard to measure, and we have to rely on feedback," she says. "But for the companies who remained on the project, we definitely seem to be adding value."
Not all 22 companies made it through the 12-month programme, she explains. "They're small businesses and they don't all have the resources or the time to devote to this sort of programme," she says.
Accordingly, Saint-Gobain is now looking at the structure of the programme and fine-tuning it for next year. "I think we need more flexibility, with a lot more E-learning so participants can work at their own speed and convenience," says Chenia. She's also looking at taking a more regional approach so that delegates will not have to travel so far.
The next couple of months will be spent reviewing last year's progress and Saint-Gobain will start recruiting the next tranche of delegates in June or July. Long term, Saint-Gobain hopes to build a network of Entrepreneurship Foundation alumni to help propagate expertise across the supply chain.
Fast-growing small companies are job creators, says Chenia, and they can attract new talent into a sector that is currently facing a serious skills shortage. She has no doubt of the Foundation's value:
"This is a wonderful initiative. It enables us to extend our reach and it can really make a difference to small businesses," she says.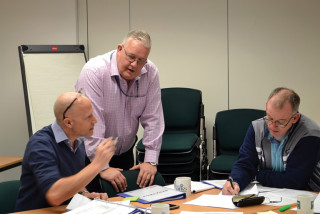 A happy customer
Launched in 2013, Hounslow-based Wild About Roofs is a young firm that specialises in installing green roofs. It is currently doing well, but co-founder and general manager John Ward says that maintaining a competitive advantage is everything. "This is why we jumped at the opportunity to sign up to the Saint-Gobain Entrepreneurship Foundation," he says.
"As well as being very useful for a new business such as ours who want to hone their approach and grow the customer base further [the Foundation] also offers a unique opportunity to have access to Saint-Gobain personnel and product innovations including a mentor as part of the programme," he says.
Ward is currently very busy, but he says it's been worth taking time out to attend the Entrepreneurship Foundation seminars. "It's an opportunity not only to learn some new skills which I can take back to the business, but also to network with fellow attendees and Saint-Gobain employees."
Training seminars have focused on the practicalities of running a business, which Ward says has helped him draw up a new business plan. "It has helped us focus on individual areas within our plan, for example costs, how to generate more sales by targeting customer segments and reviewing marketing, and how we work internally including job roles," he says.
One unexpected benefit of the training has been the opportunity to compare notes with other attendees from different industry sectors. "As you get to know people over the course they become more comfortable with sharing information and this is can be really useful," explains Ward.
"Sharing tips is one of the best things about the Foundation. Whether it is issues with suppliers or practical challenges on sites, the opportunity to learn how others have successfully solved problems and applying those ideas to our business is invaluable."
Ward's mentor throughout the year was Martin Cope, London area manager for Jewson. Besides helping Ward set up a Jewson account, Cope also provided a list of other contacts within Saint-Gobain and arranged for Ward to use the Saint-Gobain Innovation Centre in London for client meetings.
Ward says that the Foundation has helped him develop "practical operational skills" as well as learning about various Saint-Gobain products. "But hearing how our counterparts across the industry have avoided the pitfalls and grown their businesses could turn out to be the biggest benefit of all," he says.
Got a story? Email news@theconstructionindex.co.uk