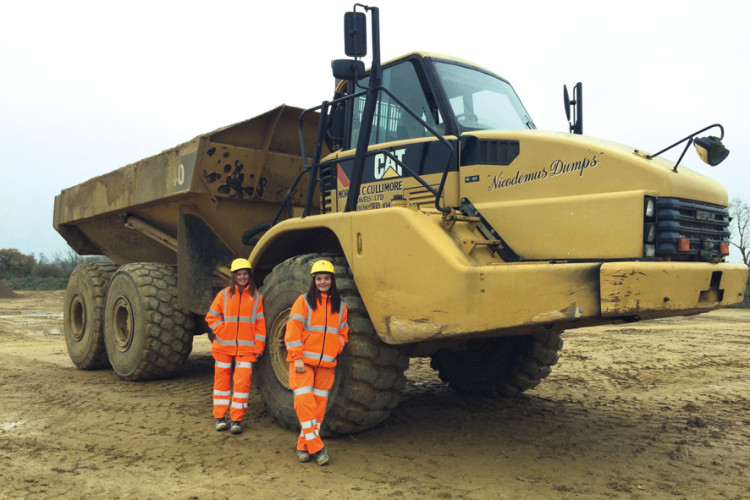 A shortage of skilled construction workers is possibly the most serious threat facing contractors today. UK construction is heavily reliant on a foreign workforce, and trade bodies are so concerned that they have banded together to call for positive government action to avoid the 'cliff edge' of a post-Brexit skills famine.
As an industry, construction struggles to make itself an attractive career choice for school-leavers. And of course the most difficult to attract are the girls – construction being regarded almost universally as dirty, dangerous and uncompromisingly male.
Despite this, women are a growing minority in the industry. A 2015 report by recruitment consultant Randstad forecast that by 2020 more than a quarter (26%) of construction jobs will be filled by women. 
The report also found that the trend is accelerating. Between 2005 and 2010 the proportion of construction jobs filled by women rose by just one percentage point, from 15% to 16%. But in the following five years this increased at four times that rate to reach 20% in 2015.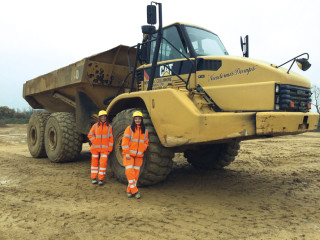 Moreton Cullimore, owner of Gloucestershire haulage and aggregates company the Cullimore Group, believes that the traditional view of construction as an exclusively male working environment is already outdated. Two of his 15 quarry plant operators are women and he's never doubted their ability to hold their own.
"Career choice isn't necessarily gender-specific; in the end it comes down to the individual," he says. "There are plenty of men who wouldn't want to work in this environment but it's still considered a male industry for purely historical reasons."
Cullinan's first female plant operator was Emma Wallis, now 24, who joined the firm six years ago after a traumatic 12 months spent in a nice cosy office job.
Having left school at 16 after her GCSEs, Wallis spent a year at the local FE college studying public services. Her ambition at the time was to join the police force, but instead she ended up on a one-year traineeship with a big building society. It was not for her.
"It was a phone job and I'm no good talking to strangers on the phone," she says. "I hated every minute of it. I used to spend my lunchbreak in tears".
Having stuck it for a year, Wallis decided she had to get out. As luck would have it, her father is one of Cullinan's quarry managers; and her brother was a plant operator with the firm.
"My brother got a new job and that created a vacancy. So my Dad suggested that I applied for the job.
"It did scare me at first because it was a very unfamiliar environment and everybody else was male. But it helped that my Dad worked there and that the plant manager was a family friend," she says. "As soon as I started work here, all my worries were gone."
Wallis' new job suits her much better than her old desk-job. Her shyness, which had made phone work so irksome, was no problem in the quarry environment, where personal interactions are mostly one-to-one. 
The physicality of the work also suited her better than the sedentary office environment. And she also felt satisfaction in acquiring a new and very marketable skill.
In July, Wallis was joined at Cullinan by another female trainee, Josie Barstow. 
With A-levels in graphic design, product design and English language/literature, Barstow was one of the few in her year who did not go straight into further education. 
"I didn't know what I wanted to do, but I did know I didn't want to go to university," she says. Like Wallis, Barstow was encouraged to join the company by her father, a sales manager with Cullinan Group. 


"Going straight into a job like this is probably one of the scariest things I could have done," admits Barstow. But she – just like Wallis – has discovered that her working environment is far less hostile than she'd expected.
Both women operate seriously heavy equipment. Barstow is currently training on a 40-tonne Cat 740 dump-truck, while Wallis is now an experienced and qualified operator, equally at home on the Cat 962 wheeled loader, Cat D6 dozer and Volvo EC380 ADT – as well as the Cat 740. "There's nothing here that Emma can't drive," says Cullinan. "She's one of my best drivers."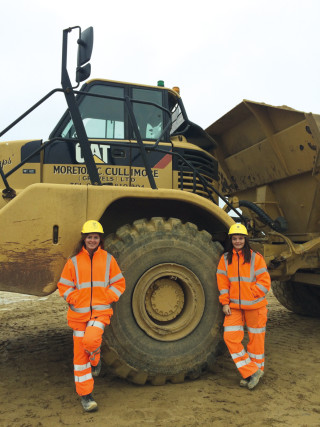 Training is done on the job, starting out as an observer in the cab, and then graduating to operating the machine, first with a tutor alongside and finally solo. While no formal qualifications are required to work in a private quarry, both women are undergoing the appropriate training and Wallis already has an NVQ Level 2 and is currently doing an IOSH safety course. 
Also confounding gender stereotypes is Amy Leask, a 20-year-old trainee piler with Derbyshire-based contractor All Foundations.
Leask may well be the only female piling operative in the UK; her employer certainly thinks so, and she confesses to never having met another woman on site in little over a year.
Leask left school after her GCSEs and enrolled on a construction course at Derby College, training initially as a painter and decorator. But when a vacancy at All Foundations was advertised, her tutors encouraged her to apply.
All Foundations, a small but rapidly-growing contractor, doesn't share the current enthusiasm for apprenticeships, preferring the "recruit-and-train model that has served the industry well for generations".
Amy Leask was one of five 18-20 year-olds recruited in September 2016 and sent straight out to work on site. Despite the fact that she often spends days away from home in bed-and-breakfast accommodation, the only woman in a gang of four piling operatives, she says she enjoys the work and gets on well with her colleagues. "I like these guys," she says.
But although she has had nothing but support from All Foundations, she admits that some of the people she meets on site are not as enlightened. "Most subbies are fine, but there are still some very narrow-minded people out there," says Leask.
"I don't think a lot of women could hack it, to be fair, but you've just got to get on with it. I enjoy the job," she adds.
Leask and the other All Foundations trainees are being fast-tracked through a modular training scheme and will soon be qualified and ready to work full-time. Leask is now well into the second of her four training modules. 
All Foundations recruited its second batch of trainees in September 2017; the three of them are all young men. 
It takes time for attitudes to change, but more women are joining the construction industry and finding that they are at no disadvantage compared with their male colleagues. 
It is worth noting that both Wallis and Barstow were encouraged to apply to Cullinan Group by their own fathers; both admit that, had it not been for the family connection, they would never have considered it.
Young women are still inclined to assume that construction is too hard or too hostile for them as a career; many men still assume that women lack some indefinable quality necessary to hack it on site. Both are wrong, as these three young women demonstrate. All Foundations' HR director Steve Powell describes Amy Leask as a hard-worker and "an exceptional talent". He's surely not
saying that just to be nice.
This article was first published in the December 2017 issue of The Construction Index magazine, which you can read for free at http://epublishing.theconstructionindex.co.uk/magazine/december2017/
UK readers can have their own copy of the magazine, in real paper, posted through their letterbox each month by taking out an annual subscription for just £50 a year. See www.theconstructionindex.co.uk/magazine for details.
Got a story? Email news@theconstructionindex.co.uk