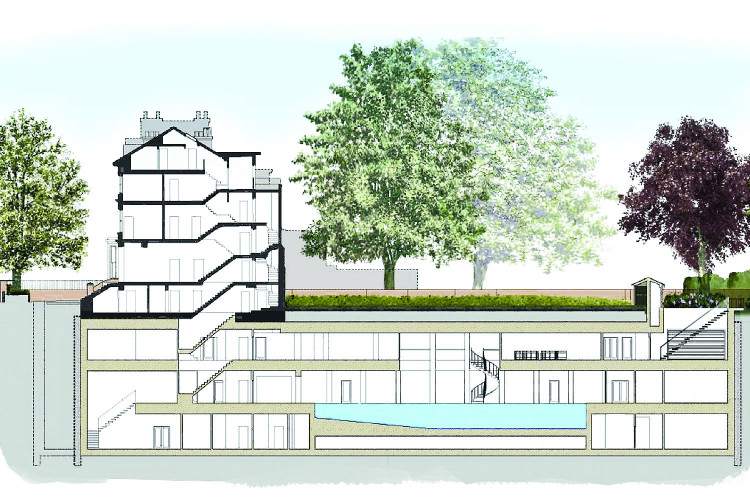 One of the most active – and controversial – subsectors of the ground engineering industry is basement extension.
It's active because in central London, where property prices are astronomical and space is at a premium, installing a basement or extending an existing one can be a practical way of adding value to your property. And it's controversial because the technical challenges have proved too much for some of the architects and contractors employed to carry out the work.
The super-rich have been leading the march underground with ever-more ambitious schemes going three or four storeys deep and incorporating such features as underground cinemas, garages, swimming pools – and even climbing walls.
Not everybody's a fan, though. Technical problems, such as flooding and subsidence, have combined with severe above-ground disruption from vehicle movements and noise to make the London borough of Kensington & Chelsea (where the basement business seems to be especially popular) introduce measures to discourage the practice.
Under proposed planning bye-laws, basement extensions in the borough would be banned from going more than one storey deep and could extend out to no more than 50% of the property's garden area. Surprisingly, this is welcomed by Oliver Gentle, piling manager with Brentwood-based contractor Knightbuild, which specialises in groundworks including basement projects. "It's good news for us because it's led to a rush of planning applications," says Gentle. Planning permissions granted before any revision of the regulations will remain valid for up to three years, he explains. So the borough's announcement has effectively guaranteed three or more years' work for the company. Last year, mainly on the strength of the basement market, Knightbuild set up its own in-house piling division to carry out this highly specialised work. "I've been in piling for the past 20 years and I'd been doing Knight's piling as a subcontractor up until last year," says Gentle. "Their business is basements and concrete frames, so piling is important to them," he adds.
Now, with eight piling rig operators and five 'piling men' on the team, Knightbuild's piling division is working flat-out. "We've just finished eight big jobs and we've got another eight just starting," says Gentle. "At any time Knightbuild always has 12 to 15 projects on the go," he adds.
But although the new division employs more than a dozen people, it has no piling rigs of its own. Instead, it has chosen to hire all of its rigs from Cheshire-based hire and sales company Skelair, a company Gentle knows well from previous experience.
Skelair is the sole UK supplier of the German-made Klemm range of mini-piling rigs, which are perfect for the sort of work Knightbuild does.
"Hiring makes sense, especially when you consider we're only just getting started," says Gentle. He reckons that owning enough rigs to satisfy the current workload would require an investment of at least £1m. Tying up that amount of money in capital equipment at this stage would be unwise: "Our closest rival bought all their rigs; their piling division lasted nine months," he explains.
Being able to hire the equipment gives the company flexibility. At the time of writing it had two Klemm 709-2 rigs out on hire, including one on a major basement project which required a compact machine capable of installing 450mm-diameter piles to a depth of 30m.
Having access to high-quality rigs on longterm and flexible rental agreements is a cost-effective and scalable solution, especially for a business that, like Gentle's, is undergoing rapid growth.

Gentle has a particular liking for the Klemm machines, which he describes as typical examples of German engineering: "built to last and simple to use. The workmanship is second to none," he says. They are compact but powerful, capable of installing piles up to 660mm in diameter and 30m deep. "The job we're on at the moment, we could use a 40 tonne rig for those piles," he says. "But there's a listed gateway and some mature trees nearby. The sheer weight of a big rig would do too much damage; but the Klemm only weighs 14 tonnes."
Gentle does not rule out the possibility of Knightbuild eventually owning some rigs of its own although he says it's certainly not going to happen soon. He's happy to continue hiring from Skelair Having said that, with so much work around at the moment, there would be no need for any machine owned by Knightbuild to stand idle. Why not buy some machines and offer specialist foundations services to third parties? "We have discussed this and it wouldn't necessarily be a problem," concedes Gentle. But it's still early days, he reminds us; the division was set up specifically to satisfy the parent company's requirements and it's too soon to consider turning it into a specialist contractor in its own right. "In any case, we are so busy with our own work at the moment that there's no time for third party work. We haven't got a spare week this side of Christmas." 
Give a dog a bad name
Three months ago, the Health & Safety Executive made a series of unannounced visits to domestic basement projects in London. Nearly half of them failed the inspections.
Such is the demand that a growing number of unqualified builders have been tempted to try their hand at basement extensions without the first idea of how to manage the technical challenges and without the services of a professional structural engineer.
You don't have to look far to find the inevitable horror stories – such as the Victorian house in Barnet that had to be demolished in April after shoddy basement work resulted in the building literally splitting in two.
The basement business is developing an image problem, admits Oliver Gentle. And it's a major frustration for companies like Knightbuild.
"There's plenty of them out there: people trying to make a fast buck – no propping, no structural design," he says. Knightbuild, he points out, has an in-house team of six structural engineers and does all its own design work.
When the HSE carried out its safety blitz in March, five of the projects it visited were Knightbuild's. "Not one was served with an improvement notice," says Gentle. All Knightbuild sites are registered with the Considerate Constructors scheme and the company has even come up with its own "See it; say it" campaign to encourage site staff to report anything untoward. Employees are encouraged to fill in cards and drop them in boxes located on site. "Every week we award a £25 Marks & Spencer's voucher for the best card," says Gentle.
This article first appeared in the June 2015 issue of The Construction Index magazine. To read the full magazine online, click here.
To receive you own hard copy each month in traditional paper format, you can subscribe at
http://www.theconstructionindex.co.uk/magazine#
Got a story? Email news@theconstructionindex.co.uk