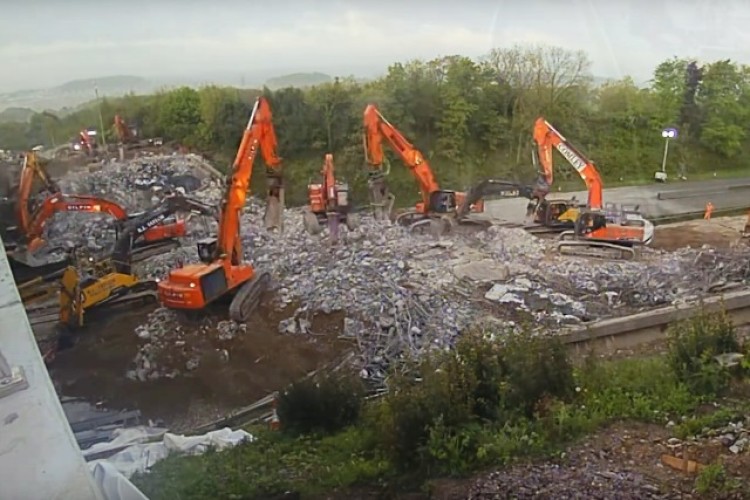 The short film, below, shows construction of the new bridge, followed by demolition of the old one and the removal of rubble.
The £6.4m scheme was required because the old bridge over the A38, built in 1969 as part of the Plympton bypass, was suffering from alkali silica reaction, or concrete cancer. It was demolished on a Saturday night in May 2016 using 60kg of explosives, spread out over 278 drilled locations on the bridge.
Cameras also capture the clear-up operation after the demolition, which resulted in all material being recycled from the old bridge and used in construction projects across the southwest.
Specialist contractor Gilpin Demolition had 17 tracked machines on site to process 139 tonnes of metal and 2,500 tonnes of concrete.
Highways England regional director Andrew Page-Dove said: "This video really shows how much work went into planning and executing this significant bridge scheme and we are very proud of what we have been able to achieve for drivers and the local community.

"The recycling record of the project is also impressive and it's great to think that waste from the old Merafield Bridge will now being used in the construction of new buildings and structures all over Devon and Cornwall."
Around 3,000 tonne of crushed recycled aggregate was also brought to site to form a crash deck to protect the road surface as the old bridge dropped on to it. This aggregate was also taken away for reuse afterwards.
Main contractor for the project was Interserve.
The new concrete bridge is 80 metres long, 11.3 metres wide and made of 2,503 tonnes of concrete and 401 tonnes of steel. Its design by Mouchel (Kier) consists of a lattice work of steel beams supporting precast concrete deck units on in-situ abutments at both ends and a single intermediate supporting pier.
Got a story? Email news@theconstructionindex.co.uk