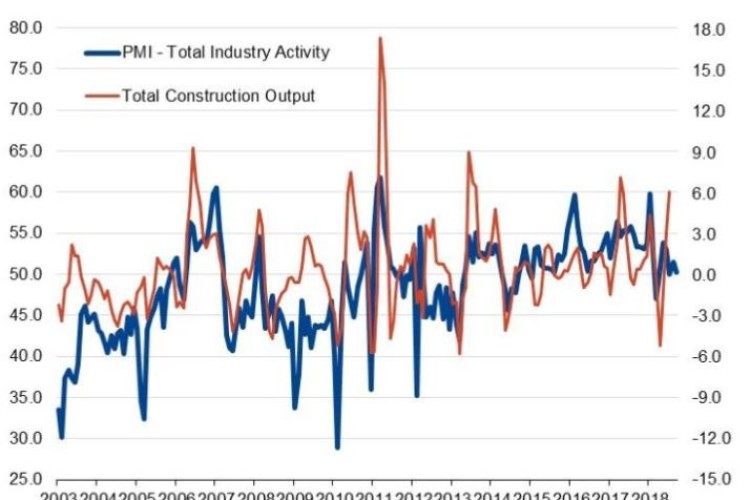 Growth in housing and commercial activity slowed and the rate of job creation eased, according to the latest Germany Construction Purchasing Managers' Index (PMI). However, contractors retained broadly optimistic outlook.
September's loss of growth momentum meant that total industry activity barely rose compared with the month before. Building companies did continue to take on additional staff amid a slight increase in new orders and the positive sentiment towards the outlook, though the pace of job creation was the second-slowest since February 2017.
Sustained supply chain pressures were meanwhile reflected in longer lead times on building materials and products as well as a steep rise in purchase prices.
The headline seasonally adjusted PMI came in at 50.2 in September – only just above the 50.0 'no change' figure - down from 51.5 in August. The latest reading confirmed the weakest quarter in terms of average growth for four years.
Growth in construction order books resumed in September after a dip in inflows of new work midway through the third quarter. The marginal rise in new construction projects was partly linked by surveyed firms to growth in the wider economy.

Construction companies generally remained optimistic towards the outlook for total activity over the next 12 months. However, the net balance of companies forecasting growth remained lower than the record highs seen earlier in the year.
Constructors increased their use of subcontractors in September. The three previous months had seen usage decline due to a sustained deterioration in subcontractor availability, a trend that extended into September (albeit at a slightly moderated rate). Rates charged by sub-contractors meanwhile rose sharply.
Building companies also faced another steep monthly rise in purchase prices, with the rate of inflation pulling back only slightly from August's ten-month high. As well as reflecting tightness in supply chains, with lead times on inputs increasing again in September, the rise in purchase prices was linked to suppliers passing on the cost of new road toll charges.
Phil Smith, principal economist at IHS Markit, said: "There was a sense of déjà vu in terms of sub-sector performance, with latest data indicating sustained, albeit slower, growth in both housing and commercial activity, but also a contraction in work on civil engineering projects – the sixth in 2018 so far."
He added: "Growth may have downshifted, but constructors don't foresee activity levels going into reverse any time soon. Expansion in the wider economy continues to boost construction order books, and firms expect high demand to support output levels in the year ahead."
Got a story? Email news@theconstructionindex.co.uk