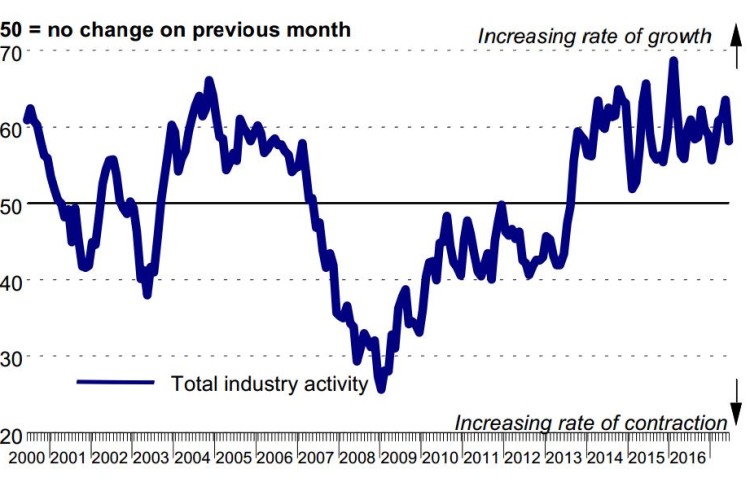 There was, however, an easing in the pace of growth, mirroring a slowdown in the rate of expansion in new orders.
Employment continued to increase at a substantial pace, while business sentiment improved to a ten-month high.
The Ulster Bank Construction Purchasing Managers' Index (PMI) – a seasonally adjusted index designed to track changes in total construction activity – dropped to 58.2 in June from 63.6 in May, indicating a sharp monthly rise in activity, albeit the weakest in four months. Total activity has now expanded in each of the past 46 months. Panellists responding to the survey reported improving demand, with the housing and commercial sectors highlighted as areas of growth.

Simon Barry, chief economist Republic of Ireland at Ulster Bank, said: "A decline in the headline PMI index, from 63.6 to 58.2, indicates that the pace of expansion did ease somewhat last month. However, this follows a particularly strong May performance (among the strongest in the survey's 18-year history) and the still very-elevated level of the PMI indicates that the recovery in Irish construction continues apace."
Respondents continue to report that commercial and housing activity are key drivers of the activity gains. The commercial category was the strongest performer in June, with the pace of growth of housing activity moderating in June from near-record levels in May. On the other hand, civil engineering activity decreased modestly in June, ending a two-month sequence of growth.
Barry added: "Over 60% of firms expect activity to increase over the coming year, which taken together with further sharp increases in new orders, suggests that near-term prospects for the sector remain very favourable following a very strong first half of 2017."
Got a story? Email news@theconstructionindex.co.uk