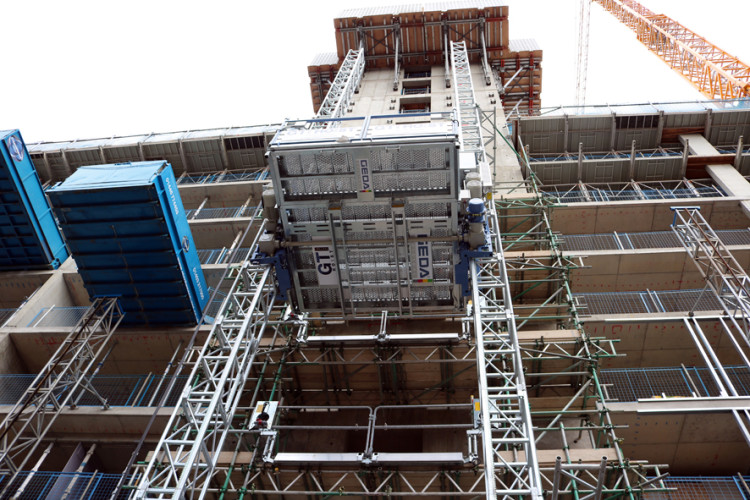 When contractor RG Group won the £23m contract to build Symons House, a 21-storey student accommodation block in Leeds, one of its first priorities was to get GTI, a specialist installer of personnel and goods hoists, on board.
While unusual, its reasoning was simple: the reinforced concrete frame building is due for completion in January 2020 and it would be difficult to meet that deadline if staff and materials had to be transported using conventional hoists. RG Group also has an unusual relationship with GTI – it is the company's only rental customer, so it knew it could rely upon undivided attention.
"The minimal build time meant that the hoists were a critical piece of kit to achieving the speed of construction necessary," explains RG Group project manager James Smith. "If we used conventional hoists on the side of the building then we'd need two of them. We identified logistics as a key issue back in December 2017, before we'd even started demolishing the office block that was on the site."
RG Group – and this particular project – are also key to GTI's business development as the latter, hitherto a specialist in the installation, maintenance and inspection of rack-and-pinion hoists, entered the rental market purely at its client's request.
"We see our USP as delivering exactly what the customer needs, rather than steering them towards what we have lying around the yard," says GTI co-founder Scott Grant, a veteran of the rack and pinion industry. "So, we researched alternatives and presented them for consideration."
The answer came in the form of a GEDA 3700 Z/ZP, a German-made hoist that had never been used in the UK before. And, since it was being specified right from the start, it could be integrated into the whole building design using CAD. As Smith explains, the GEDA 3700 Z/ZP has major advantages in terms of speed, size and its positioning within the building envelope.
"The hoist has an astronomical load capacity of 3.4 tonnes so it can take a whole pallet of plasterboard in one go as it weighs two tonnes – a conventional hoist would just be swamped," says Smith. "And it's fast too. It can go from the ground to level 21 in just 2.5 minutes if it's only carrying materials and five minutes if it's taking people up in a man-riding cage," he says.
"And the hoist is in the centre, the core of the building, rather than the side so we can use it as a moveable platform and bring in materials by crane at whatever level we need – just demount the roof and bring them in."
Smith gives the example of the prefabricated bathroom pods that are being fitted. These weigh 360kg each and measure approximately 2m x 1.3m which is well within the dimensions of the hoist's 3.4m x 2.9m platform. These pods will be craned in and then manoeuvred into place with a pallet truck.
He says that incorporating the hoist into the core of the building rather than on the side has doubled the speed at which the floors can be laid and personnel can start working.
"The core of the building goes up ahead of the frame and, in this system, the hoist goes up at the same time. Using the conventional method, with a concrete framed building like this, the hoist would be three or four floors behind. With this method, the hoist is there as soon as the floor is completed," Smith explains.
"There's also less work involved at the end of the project when you take the hoist down because it's in the core. If you had hoists attached to the side of the building you would have to then fit out two whole bedrooms for each floor, which involves plasterboard, electrics and plumbing and would really slow down the building programme."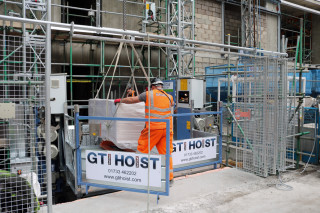 The company is hoping to use the same hoist on two other Leeds projects that are being worked up. One, for Olympian, is a 36-storey purpose-built student accommodation scheme on the site of a former office block known as Hume House in Leeds city centre.
Scott Grant is certainly hoping these projects will come to fruition as the 52-week rental at Symons House will not pay off the cost of the GEDA 3700. But he does not seem unduly worried.
"It's a huge investment to cover this cost but I've already had three other enquiries for a machine of the same capacity so that's strengthened my faith in our decision to buy this model. I'm sure that with the speed and flexibility that it offers it will soon become 'new normal'," he says. "Two of those enquiries came from other hoist rental companies."
GTI: a start-up with a good track record


Scott Grant and Simon Taylor founded GTI in January 2015 after working for leading manufacturer Alimak Hek for many years.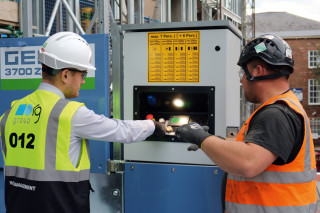 Grant had joined the goods hoist industry in 2006 after leaving the Royal Navy and trained in all aspects of industrial lift and hoist installation, service and repair. His skill set encompasses Construction Design & Management (CDM) on sites as part of the principal contractor team, planning of crane lifts as an appointed person and the conception of Safe Systems of Works.
Taylor began working in the hoist industry for Alimak Hek in 2000 after qualifying as an electrician.
Originally the two founders simply supplied labour, often their own, to other companies. This business was successful so they recruited another director, Lee Murrell, who has not only worked at Alimak Hek but also in the oil and gas industry, with experience in CDM on site as part of a principal contractor team.
Their ambition was always to go into the business of supplying hoists but, Grant admits, it has all happened far more quickly than planned. The trigger was the RG Group, which asked the fledgling company to supply hoists after first meeting them as sub-contractors for another hoist rental company. So the two companies have a symbiotic relationship that is strong enough to justify the £250,000-plus investment in the GEDA 3700.
This was made easier through the investment of a new shareholder, Peterborough businessman Mike Ferguson. Grant met Ferguson two years ago, in his role as an IPAF-accredited trainer, when he did some work for Ferguson's company Autec Training.
"At this point I was only interested in renting some office and yard space, because we were still working out of our own homes," Grant says. "But it became apparent we had a lot more in common and he was interested in investing. We would still have supplied the GEDA 3700 but his involvement meant we could buy it outright."
Up to 70% of GTI's business is still the supply of installation, maintenance and testing services to other hoist companies but the plan is to evolve so that GTI supplies its own hoists and labour.
"We come from the manufacturing side of the industry and we feel that this gives us a different perspective from other companies and the standards that we apply in areas such as health and safety," Grant adds.
"We're recruiting now and we're very keen on taking people that have no construction industry background, preferably with mechanical or electrical engineering training, and then train them to our own standards."
Grant is keen to develop a strong team and is conscious of a tendency in the industry for people to jump ship from one company to another according to pay rates. Lack of commitment and job satisfaction results in a workforce that is often disillusioned and cynical.
"We want people working with us who take a pride in their work, just as we do," he says.
RG Group's James Smith would endorse that statement: "Their work has quality," he says. "I know that if I press a button [the hoist] will work and that their hoists will be safe for our guys. I need to be able to sit in my office and know that our operatives are safe and secure – and GTI delivers that confidence."
GTI is currently negotiating framework agreements with a number of top construction companies but, in Scott's words, understands that the industry is 'volatile'.
"We won't be dependent on just one sector for our work but will also be competing for contracts in industrial services, such as for ports, cement factories and power stations, and delivering training," he says.
This article was first published in the November 2018 issue of The Construction Index magazine
UK readers can have their own copy of the magazine, in real paper, posted through their letterbox each month by taking out an annual subscription for just £50 a year. Click for details.
Got a story? Email news@theconstructionindex.co.uk