Hard-hats are designed to protect you, right? But have you ever considered that they might be able to protect you from more than just a bump on the head?
Engineers at Laing O'Rourke's soon-to-be-sold Australian division have done just that and are currently working on a design for a hard-hat that incorporates clever electronics to monitor your heart rate, body temperature and environmental conditions.
Australian construction workers are often exposed to extremes of humidity and temperature in this huge, sparsely-populated country, where construction sites can be remote and inaccessible.
Working in such extreme environmental conditions can present serious health issues; only last November a 28-year-old worker at a gold mine in Western Australia died from heat exhaustion. So being able to monitor the body's response to extremes of temperature could be a life-saver.
Dr Rod Shepherd, 'device engineering lead' at Laing O'Rourke's Engineering Excellence Group in Chippendale, New South Wales, explains that "we were looking to mitigate the risks associated with working under such conditions and effectively pre-empt the onset of serious heat-related issues rather than react to more serious symptoms."
The hat, which has already been trialled but is not yet in full production, uses built-in technology to raise the alarm when a worker is in danger of becoming dehydrated, overheated or – should the worst happen – collapses.
The battery-powered system has sensors built into the headband. These are connected to electronic processors that monitor the wearer's heart-rate and body temperature as well as the position of the hat and external factors including ambient air temperature and relative humidity.
The device regularly transmits status updates to monitoring systems via a local low-power radio network and 3G communications systems. The data is also stored in the hat itself.
Should any of the pre-set safety levels be exceeded, the hat vibrates and emits a series of beeps to warn the wearer that they are exposed to potentially unsafe conditions.
It also alerts colleagues over the local radio network while sending text or email messages requesting immediate assistance. A built-in GPS tracker pinpoints the wearer's location.
According to Laing O'Rourke, the device has already been tested for comfort and practicality by 10 volunteers working on two current projects: the Moorebank Units relocation (defence) project in south-western Sydney and the Ichthys LNG cryogenic tanks project located in the heat and humidity of the 'top end' of Australia's Northern Territory.

"The Ichthys project near Darwin is an ideal environment to test out these smart-hats as temperatures for those working on suspended decks inside the tanks can often reach 45oC," says Shepherd.
Site testing began in 2014 and was completed late last year. According to Shepherd, initial feedback shows that people don't notice the extra weight of the prototypes.
"So far we've only tested them for up to four hours. We need to see how people feel about wearing them after a whole working day, to test them in larger numbers and consider other logistical aspects of scaling for a wider rollout," he adds.
Of course, the UK doesn't experience heat or humidity anything like that in Australia's Northern Territory and, over here, "remote" means B-roads – not hundreds of square miles of empty desert.
Nevertheless, the idea of being able to monitor vital body functions in hazardous environments has an obvious appeal for the health-and-safety conscious.
Could there be any benefit in using such a system in the UK's less extreme climate?
"Yes," says Shepherd, "and I'm not convinced about the climate being less extreme! We are very interested in extending the current functionality to include different forms of fatigue monitoring, and working outside in the cold can be just as problematic," he explains.
"We are also interested in vibration monitoring for workers operating hand-held equipment," adds Shepherd.
Inevitably, the limiting factor in the success of the smart-hat is likely to be cost. Traditional hard-hats are generally inexpensive but a smart-hat full of clever technology is likely to cost a fair bit more.
On the average construction site, with mild working conditions and good access to emergency services, the extra cost would be hard to justify; but a worker fixing steel on a freezing wind-swept bridge project in Northern Europe might consider the investment money well-spent.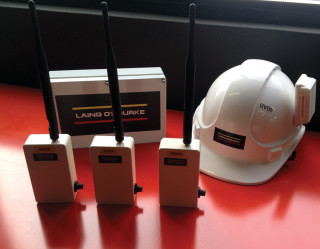 Got a story? Email news@theconstructionindex.co.uk