A team of up to 40 specialist contractors is working through the night over 14 months to carry out the job, avoiding disruption to rail services on one of Scotland's busiest routes.
The site above the tunnels will be home to The Haymarket, a £200m development of shops, offices and hotels, with an underground car park. It is being developed by Edinburgh Haymarket Developments Ltd, a joint venture between Interserve and Tiger Developments.
Interserve development director David Westwater said: "This work is the main challenge before we can begin construction above ground. It will be early next year before we can do that, but then people will soon start to see the development taking shape. After such a long time as a gap site, we're very excited about what The Haymarket has to offer and how it will help to create a real gateway at Edinburgh's west end."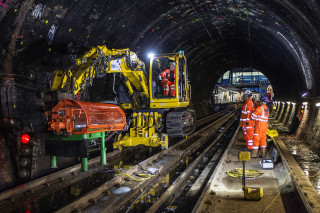 The strengthening works will allow contractors to begin building the foundations for the development. This includes grouting between the tunnel lining and the surrounding ground, and drilling and inserting metal bars within the brick lining.

Line possessions are only possible in the north tunnel between midnight and 5am, four nights per week, and in the south tunnel from 1am to 9.30am for one night a week.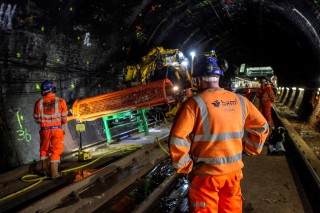 Groundworks specialist BAM Ritchies is carrying out the tunnel strengthening works. Project manager Angus MacGregor said: "We are very well experienced in complex rail projects but every situation is unique, so we've had to develop a very specific approach for this work based on the skills and knowledge of our team. There are many constraints to working on this site, but we have made good progress so far thanks to the working relationship we have with our client and Network Rail."
Network Rail's Gary Walker added: "Clearly our priority is to ensure that the works are carried out safely and with no disruption to rail passengers on this extremely busy section of the network. We have worked closely with Edinburgh Haymarket Developments and BAM throughout the design process over the last 12 months and it is pleasing to see work being carried out as planned."
Got a story? Email news@theconstructionindex.co.uk