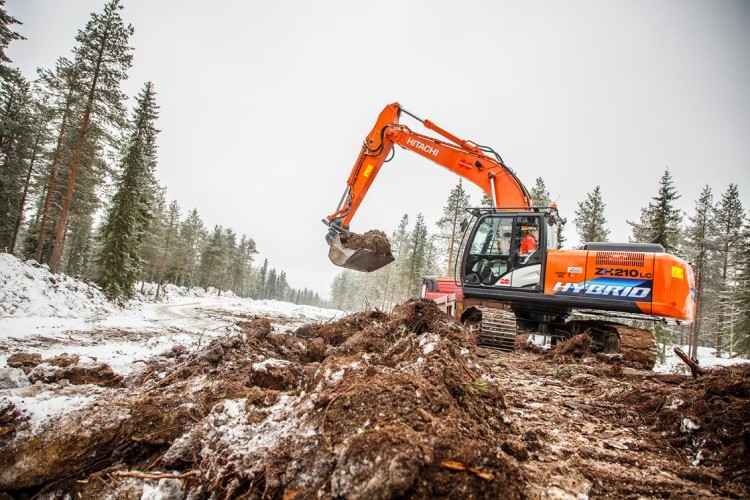 The latest Zaxis-5 model has been designed to produce fewer emissions and use less fuel than conventional models.
The ZH210LC-5 hybrid incorporates the company's latest technologies adopted from hydraulic, electric and battery-powered excavators. The resulting Trias HX system, which reduces fuel consumption and CO2 by up to 31%.
According to the company, the new ZH210LC-5 hybrid excavator will provide energy-saving performance, but without compromising on power, speed or ease of operation. The combination of a proven hydraulic motor and an eco-friendly electric motor enables it to provide the same high levels of efficiency and smooth swing motion as all Zaxis-5 hydraulic models, said Hitachi.
The hybrid system incorporates a swing motor that converts energy generated during swing braking into electrical energy. This is transferred via the power control unit and stored in the capacitor unit, before being used to help the engine accelerate and move the upper structure.

The Trias hydraulic system employs a three-pump/three-control valve system, designed to result in greater accuracy and to reduce pressure-loss. The ZH210LC-5 also has an electric power-assist system that comes into force for small swing operations. It uses energy from electric swing motors to carry out such movements, further reducing the machine's fuel consumption.
In addition, the ZH210LC-5 has been designed with a monitoring system, which highlights fuel consumption and energy usage on an average hourly and daily basis. This gives the operator an accurate indication of the machine's efficiency and encourages greater awareness of economic operating techniques.
Prior to launch, the ZH210LC-5 hybrid excavator underwent a rigorous winter test in the Arctic Circle under the supervision of Finnish contractor Maansiirtoliike Kemppe Oy. It used the machine for earthmoving and loading trucks from January until March 2014 on a road construction project in Rovaniemi alongside its existing fleet of conventional medium Zaxis-3 and -5 excavators.
In freezing temperatures that plummeted to -30°C, the machine was tested by experienced operator Kari Saraniemi. "The swing motion on the hybrid excavator means that it is even more smooth and precise than a conventional machine," he said. "In addition, it is less noisy in the cab and the fuel consumption is excellent."
Got a story? Email news@theconstructionindex.co.uk