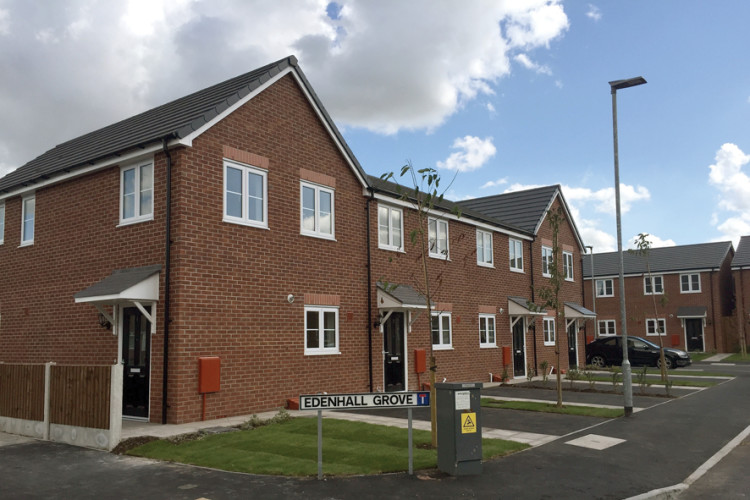 Do you remember those school chemistry experiments where several apparently harmless substances reacted violently when brought together? Well, the government is currently engaged in a similar experiment with the construction of social housing, in which several policies devised independently of each other are promising to interact with unintended consequences for the industry.
Ministers talk endlessly about wanting to get more new homes built, but there's a real risk that policies designed to do that could be thrown into confusion by other policies intended to expand home ownership and save tenants' money.
Puzzled heads are being scratched as social housing providers try to work out what the series of proposed changes will mean for their ability to build new homes. And that means that the builders should be having a serious think too.
Two of the policies have their origins in the Conservative general election manifesto. One is to give housing association tenants the right to buy their homes; the other is to encourage affordable home ownership through an expansion of the "Starter Homes" programme.
The third policy was a goodie tucked away in the summer budget as chancellor George Osborne sought to position the Tories as 'the workers' party'. This is the annual 1% rent reduction for all social housing tenants until the end of this parliament in 2020.
So how would these three policies react unfavourably in combination, and how does any of this affect building? Well, the problem is that housing associations' development programmes depend on borrowing against long-term projections of how much rental income they are going to receive.
If that income suddenly falls by1% a year, a hole appears in those business plans.
And if the rent from a significant number of their homes disappears because tenants have bought them, that hole gets larger.
The assumptions upon which housing associations based their development programmes have therefore suddenly been knocked awry and the associations may have less money to spend on building than they had hoped.
To add to the mix, one way in which housing associations have been providing homes has been by buying them from builders who were required to earmark a proportion of a site for affordable housing through planning conditions (section 106 agreements) imposed by local authorities.
These cut both ways. Parts of sites on which builders could have built homes for sale on the open market have had to be turned over to affordable housing, which is the least profitable from the builder's point of view; on the other hand the knowledge that a housing association would reliably buy a substantial number of these 'affordable' homes has helped to reduce development risk and improved cash flow.
Prime minister David Cameron's speech to October's Tory party conference implied that starter homes would in future count towards any requirement for affordable homes imposed by a local authority.
Were this the case, builders might choose to build these instead of affordable homes - reasoning that the former can be sold for a better profit and need not be built to associations' standards. On the other hand, if they did so they would lose the guaranteed income from a social landlord buying the homes.
Starter homes are available to first-time buyers aged under 40 with a discount of 20% on market values and sold at a maximum price of £250,000, or £450,000 in London.
Under the original proposal they were to be built on under-used former commercial or industrial land or sites not otherwise earmarked for housing development. These would be exempted from normal planning gain contributions, thus allowing the discount to be offered.
But if the concept were extended to sites that were already designated for housing, would the starter homes be additional to affordable homes, or instead of them?
Nobody knows yet. David O'Leary, who heads work on starter homes for the Home Builders Federation, expects more clarity only when regulations are published, probably not until the summer:
"It is not clear whether they mean that starter homes will be additional to traditional affordable housing in planning gain, or instead of it, or how the two will interrelate," he says.
"It's been interpreted by most people as 'instead of' but it is not clear. There may be some scope for traditional affordable housing but it's quite hard to work out what percentage figure would apply."
O'Leary says that, on the face of it, starter homes could be more profitable for builders: "It depends on the requirements but they could potentially be sold for a higher price than homes that are sold to housing associations.
"But when a builder deals with a housing association they know they will get their cashflow from selling homes in bulk to someone who can pay for them, whereas a starter home is like selling any other unit for market sale," he explains.
Housing associations have had more immediate worries than starter homes as they have grappled with the rent reduction and the impact of right-to-buy. Gavin Smart, deputy chief executive of the Chartered Institute of Housing, says: "For landlords the 1% rent reduction may affect their ability to develop and housebuilders could be squeezed as associations' capacity for development opportunities will fall."

The new right-to-buy discounts enjoyed by tenants will supposedly be paid for by the government requiring councils to sell their most valuable homes each year. This is expected to bring in enough money to also pay grant to housing associations so they can replace each home sold with a new one.
Smart says: "If I had to identify a key risk it would be whether the grant really will pay for one-for-one replacement."
The requirement for councils to sell their highest value homes could see plans by a number of them to resume council house building stymied, as in high value areas almost everything built would be in the 'must be sold off' category, rendering any building programme pointless.
"The jury is out on a lot of this as there are interlocking changes going on, some of which pull in different directions and we do not yet know where the balance will be struck," Smart says.
The National Housing Federation (NHF) represents housing associations and its head of policy, Alistair Smyth, is slightly more optimistic about their development programmes:
"We think the 1% rent reduction over four years will lose £3.9bn from the sector only a year into a plan where rents had been due to rise by CPI+1%, so there was concern that would mean our members could not afford to build as many units as they had planned," he says.
"Housing associations have since looked at their business plans and their ability to absorb that sort of cut and many now think they can build as many homes but will have to build more for market rent or sale or for shared ownership, essentially things that bring in more money more quickly."
Smyth says associations are confident they can build one-for-one replacements for homes lost under right-to-buy but only "so long as the grant is available from sales of high value local authority homes and that is the main question in this".
The NHF favours starter homes "as they help people who can afford it into home ownership, but we would not want them to be counted towards planning gain instead of conventional affordable housing. They should be additional".
Smyth adds: "I can't speak for developers but I imagine they would be concerned since the contribution of a housing association in buying a large number of affordable homes in a development helps make some schemes viable."
Danny Friedman, director of housing consultant Cobweb Consulting and a former NHF policy director, is more sceptical.
"There is a lot of concern about the impact of the 1% reduction in rental income and the loss of homes through right to buy and whether the grants that are supposed to allow for replacement will really do that," he says.
"If you have reduced revenue it quite simply means that housing associations will develop less because they borrow money to develop and depend on that rental income stream to repay that money, so their ability to develop will reduce."
He expects starter homes will get "first bite" at sites with traditional affordable homes getting only any residue.
"That might be welcomed by builders as there are complications to engaging with housing associations and building to their standards on mixed-tenure developments, whereas a starter home is a home like any other being sold on the open market so I can see it makes it simpler for builders," Friedman says.
"My guess is developers will go for starter homes rather than affordable homes where they can."
Builders certainly welcomed last August's government announcement of a £26m fund to support the acquisition of brownfield sites for starter homes.
The government's press release at the time quoted Crest Nicholson chief executive Stephen Stone saying this would "not only help first time buyers get onto the property ladder, but also accelerate further output across the industry at a time when housing need is at an all-time high."
Ian Sutcliffe, group chief executive of Countryside, said he was "very happy to support this exciting new initiative to increase home ownership opportunities".
It may all turn out fine for builders, with profitable starter homes to construct and housing associations' financial ingenuity having ensured little change to their development programmes.
But it might not. The government dreamed up these three measures in isolation from each other and there has been little sign that anyone in Whitehall has given much thought to how they will mesh together.
Got a story? Email news@theconstructionindex.co.uk