Hughes & Salvidge is using OnGrade's SiteZone system on all projects at its Heathrow Airport operations that involve plant and on-ground personnel.
All Hughes & Salvidge plant at Heathrow Airport has been fitted with SiteZone radio frequency identification (RFID) technology, which signal an alarm to both drivers and workers on foot should they enter each other's working area.
OnGrade said that it was the first use of its system in the demolition sector. OnGrade director Gary Escott said: "SiteZone has already proved a success in the construction and waste sector. However, we know that the demolition business is high-risk because personnel on foot often work in close proximity to heavy plant on site. The team at Hughes & Salvidge have shown just how dedicated they are to their staff's safety, and using SiteZone will help them to reinforce and improve safety performance."
Plant and vehicles are fitted with SiteZone base stations, while site workers have RFID transponders fitted to their hard hat or sleeve. When a site worker breaches a predefined detection zone, both the worker and driver receive a 'proximity warning'. The RFID tag vibrates, making the site worker aware of the vehicle, while the driver is alerted by sound and flashing lights in the cab of the vehicle. Telematics enable all incident data to be retrieved and analysed.


Tony Jack, Hughes & Salvidge group safety, health, environmental and quality (SHEQ) manager, said: "We are very proud of our health & safety record and we are delighted to enhance this further with the introduction of the SiteZone Proximity Warning System on all plant we are using at Heathrow Airport.
"We didn't want to use this safety system because we were asked to, we wanted to initiate the system as a key part of every project we do at the airport – where plant and on-ground personnel are working in close proximity. The feedback already from our plant operators, on-ground personnel and our clients has been excellent and as an employer it has given us great satisfaction that we have provided an extra element to our already stringent health & safety processes to help keep our staff safe."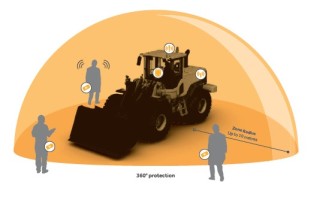 Got a story? Email news@theconstructionindex.co.uk