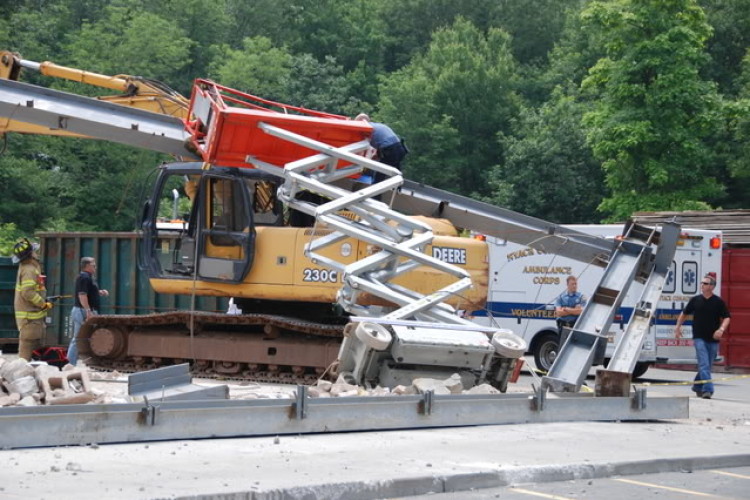 The International Powered Access Federation (IPAF) has run an accident reporting scheme for members since January 2012.
Up until 30 April 2013, a total of 303 MEWP-related incidents had been reported by IPAF UK rental company members, involving either their own employees or those of customers that they found out about.
Of these incidents, 140 (46%) resulted in injury, 131 (43%) resulted in damage, and 32 (11%) were near misses. Fewer than a fifth of incidents involved operators, for whom training is widely established.
About a third of the incidents – 104 – involved drivers. With approximately a million movements of MEWPs (delivery and collection) by road every year in the UK, loading and unloading is potentially one of the most dangerous activities, IPAF said.
Other incidents involved engineers (76 incidents, 25%), customers (68, 22%) and operators (55, 18%).

The main causes of injuries were: slips/trips/falls at the same level (33 incidents, 23%), manual handling (23, 16%,) and use of hand tools (21, 15%). Further down the list were: stranded in equipment (14 incidents, 10%), fall from height (10, 7%), walked/bumped into equipment (9, 6%) and injury while using the upper controls of a scissor lift while walking beside the machine, sometimes referred to as dog leading (9, 6%).
Almost 95 of a total of 125 IPAF UK member rental companies have registered to report MEWP-related incidents at the IPAF database. Those who commit to report and sign off monthly get access to a dashboard that shows their company's incident figures against the national average to help their health and safety benchmarking.
"The findings are groundbreaking," said IPAF CEO Tim Whiteman. "Credit is due to IPAF's UK member rental companies for committing to report any known MEWP accidents involving their staff, and to the combined efforts of the IPAF UK country council in championing this project."
To register and to report an accident involving a MEWP, go to www.ipaf.org/accident
Got a story? Email news@theconstructionindex.co.uk