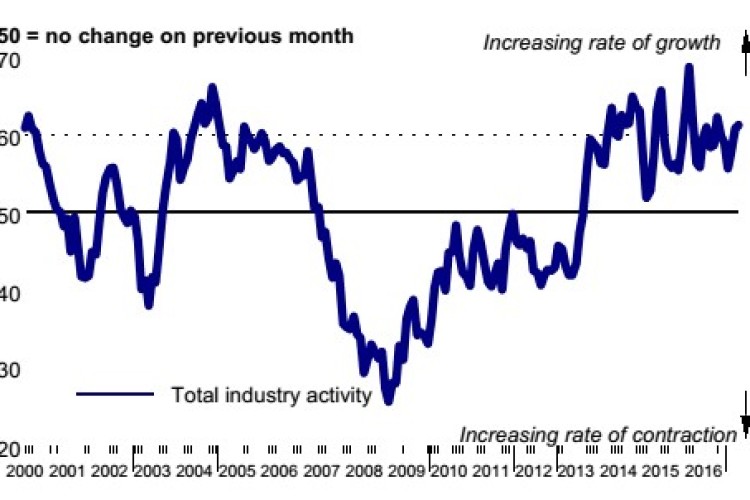 The  momentum  picked  up  in  in  April  with  output,  new  orders  and  employment all expanding at sharper rates during the month. Increases in both current workloads and future activity  requirements encouraged firms to take on extra staff.  Employment has now risen in 44 successive months.
The Ulster Bank Construction Purchasing Managers' Index (PMI) – a seasonally adjusted index designed to track changes in total construction activity – rose for the  third  successive  month  in  April  posting  61.3,  up  from  60.8  in  March.  The  reading  signalled  a  sharp  increase  in  total  construction  activity,  and  the  most  marked  since  last  October. 
Panellists  reported  improving demand, with the housing sector mentioned in particular.  
Simon  Barry,  chief  economist  Republic  of  Ireland  at  Ulster  Bank, said: "The  latest  results  of  the  Ulster  Bank  Construction  PMI  survey  show  another  sharp  increase  in  Irish  construction activity. Indeed, the pace of expansion quickened for the third month running in April, in the process taking the PMI to a six -month high. The positive messages from the headline index were reinforced by a further strong increase in new business, with the new orders index also rising to its highest level since October. Strong demand for the services of construction firms was also very much evident in further substantial increases in employment and input buying last month."
The  April  results  also  included  evidence  of  broad-based  expansion  in  the  sector  as  all  three  sub-sectors  posted  increases  in  activity, he added. "Civil  engineering  saw  a  welcome  return  to  growth  last  month,  interrupting a five -month sequence of declines in activity.  Commercial activity also expanded at a very  rapid  rate,  albeit  that  the  pace  of  growth  slightly  eased  in  April.  Residential  construction  remains  an  area  of  particular  strength  with  housing  activity  accelerating  further  to  become  the  strongest  activity  category in April. Survey respondents reported that strong momentum in the housing sector along with improving economic conditions more generally are likely to sustain favourable dynamics in construction  activity over the coming twelve months." 

The housing category posted the fastest expansion of  the  three  monitored  areas  of  construction  in  April  as  the rate of growth ticked up. Commercial activity also  increased  sharply,  while  civil  engineering  posted  a  first  expansion  in  activity  since  September  last  year.  That said, the rise was only slight.
Record rise in input buying Increased  demand  and  a  subsequent  rise  in  workloads  led  to  a  record  rise  in  purchasing  activity  among Irish construction firms in April, surpassing the  previous record seen in November 2004.
This  strong  demand  for  inputs  placed  pressure  on  suppliers  to  the  construction  sector,  resulting  in  a  marked  lengthening  of  delivery  times.  In fact,  the  deterioration in vendor performance was the strongest  since February 2016.
The  rate  of  input  cost  inflation  in  the  construction  sector  eased  slightly  during  April,  but  remained  substantial  and  above  the  series  average.  A number  of panellists reported higher prices  for metals such as  aluminium, copper and steel.
Confidence  remained  elevated,  with  nearly  60%  of  respondents  predicting  a  rise  in  construction  activity  over the coming year. Improving economic conditions and particular  strength  in  the  housing  sector  were  seen as being the main reasons for optimism.
Got a story? Email news@theconstructionindex.co.uk