JCB has weighed into the debate on the future of diesel, describing it as a "near zero emissions" fuel. And at the same time it has launched an electric mini alongside a new range of traditional excavators.
Speaking at a JCB product launch in March, the company's chief corporate development officer David Bell made an impassioned plea for diesel to be seen as the "clean" fuel that would help deliver much-needed infrastructure.
At a time when the global population is growing and the need for infrastructure is greater than ever, he said: "It is ironic that the basic power systems the majority of our industry's machines use – diesel engines – are in danger of being caught in the collateral damage caused largely by the automotive sector diesel scandals. So, instead of being the enablers for growth, the perception of our machines is tarnished just because of the engines they typically use."
He added: "This perception could not be further from the truth. This industry has made great strides in driving the agenda for minimising the environmental impact of its machines. Tighter legislation has also significantly influenced the way we work and our response to the new world we are helping to build. Particularly pertinent is the imminent Stage V European legislation to regulate exhaust emissions."
The latest EU standards for cleaning up off-road engines come into force in 2019 and 2020 (depending on engine size) and will reduce diesel particulate matter and nitrous oxide (NOx) emissions even further on a wider range of vehicles. Bell says that, despite the massive improvements in diesel emissions already achieved as a result of EU standards, questions are still asked about whether diesel is safe, if it is hazardous to public health, and what can be done to make things better.
"Like any complex issue, the answers are not straightforward," he says. "Cities such as London already breach legal pollution limits. And with the expected global population explosion, unless pollution levels are tackled, our cities will be choking. But if you take London as an example, although it is true that diesel engines in all forms of transport account for 50% of air pollution in the Greater London area, it's the older vehicles that are the main culprit."
Bell, who is honorary president of the UK's Construction Equipment Association, says construction equipment is responsible for a very small proportion of the total number of diesel vehicles in Greater London: "For every one construction machine, there are 228 road vehicles."
He adds: "It is also worth noting that the majority of construction equipment on building sites is from rental companies, who replace their machines every two or three years. We don't have lots of older machines. We have newer, clean diesel machines. So, even this small percentage is now having a minimal environmental impact."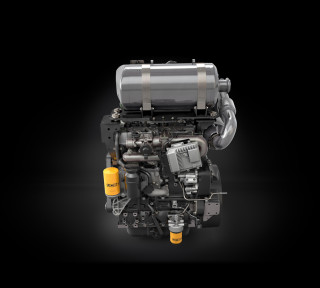 Bell pointed out that diesel engines are more efficient than petrol engines – using around 20% less fuel and emitting 15% less CO2 – and the latest diesel engines reduce NOx and particulates often to levels lower than those of petrol engines.
JCB has produced its own booklet of statistics, highlighting the credentials of "clean diesel", including the fact that it would take four lithium-ion batteries to power a 20-tonne excavator emission-free for a day, and those batteries would cost £160,000 to manufacture.
"There is a misconception that electric is the answer to a clean-power future across the board," says Bell. "This is just not true. In fact, a staggering 6.3 tonnes of CO2 are generated in manufacturing a 35kWh battery for an electric car. That's as much as an equivalent diesel car would emit in four to five years of typical driving.
"And then, of course, there is the issue of charging the battery," he adds. "That produces even more CO2. Over 50% of the UK's electricity comes from fossil fuel-fired power stations, so the emissions are just being shifted from one location to another."
Bell concluded with a rallying cry to legislators. "Our industry has invested in and risen to the eco-challenge," he said. "When Stage V legislation comes into force in January 2019, JCB's EcoMax engines will be close to zero emissions. As an industry we are playing our part and we hope government recognises this." 
JCB's 'game-changing' excavator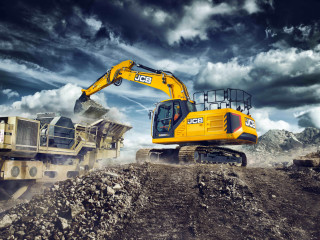 The fastest-growing sector in the construction equipment market worldwide is tracked excavators. In 2017, sales of these machines went up by 43%, so it is no surprise to see JCB making a concerted effort to grab more market share. The company's CEO Graeme MacDonald describes it as a "huge opportunity", and says the timing could not be better, as JCB is ready to unveil the first models – a brace of 20-23 tonners - in its completely redesigned tracked excavator range: the X Series.
Four years ago, the company committed £110m in investment to develop its next generation of excavators. The result, says MacDonald, is a "game-changing excavator that delivers on customer demands".
He says: "We benchmarked all the leading competitors, we listened to our customers and those that don't buy our excavators, and we went into minute detail about what they'd like to see in the new generation product. Our obsession was to build the best excavator ever from JCB."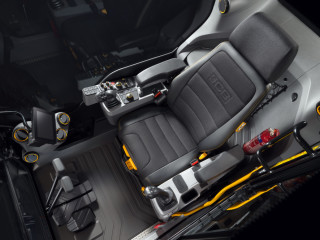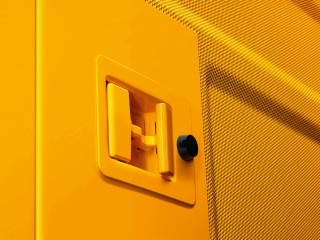 David Brailsford, performance director of British Cycling, famously attributed the UK's extraordinary recent success in competitive cycling to "marginal gains" – small improvements to every aspect of the equipment and process that add up to a significant overall advancement. That is the approach JCB has taken: looking at all the individual components that go into a tracked excavator and trying to improve them.
"We talked to a lot of customers – those who run our excavators and those who don't – and consulted with operators about what they do in their daily operations," explains JCB global excavator business growth head Nick Grills. "They provided us with a log of over 1,000 items that went into the design brief."

As a result, the new machines have: a 15% larger cab with integral ROPS; a 200mm wider upper structure; a central main boom mounting, making digging more accurate and improving durability; an intuitive, ergonomically-designed cab with a simple user interface; and stronger side doors for greater rigidity and increased protection
"Every detail of these excavators has been examined and perfected to provide maximum durability and reliability in operation," explains JCB chief innovation and growth officer Tim Burnhope. "But more than that, we have made it easier for the operator and for the service technician, reducing downtime for the customer and boosting profitability."
JCB's general manager of excavator engineering, Tim Barnett, says: "We learned that the operator has a massive influence on what machine is bought and how it's used." As a result, a lot of emphasis on the new machine has gone into operator comfort and ease of use.
The cab has been redesigned from scratch, and is being built by JCB for the first time in many years. There are three seat options, the controls are set so that those used most frequently are close at hand, and the heating and air conditioning system has 11 adjustable vents. Even the door handles and steps have been redesigned, and the rear of the machine features two "strike points" that ensure any damage is limited and easy to repair.
To improve reliability, JCB has changed the way it manufactures its excavators, with 42% of the new X-Series models built as sub-assemblies before they go onto the production line. Additional quality inspections and reliability checks have been incorporated into the manufacturing process and all painting has been brought in-house to ensure consistent high quality.
The excavators were designed using computer aided engineering (CAE), and the same technology was also used to build the excavators 'virtually'. This meant that, before any parts were ordered from suppliers, production line workers already knew exactly how to assemble the components.
A vast amount of endurance testing has been carried out, with every door opened and slammed shut more than 10,000 times to check durability, and electronic test rigs used to test every electrical component. And, for the first time, JCB has subjected an entire 20-tonne excavator on an automotive-style shaker rig to simulate 15,000 hours of tracking and vibration.
The first models to be unveiled in the new X Series range are the 210X and the 220X, both powered by JCB's Stage IV-compliant EcoMax engine.
Electric mini
JCB might be four-square behind diesel technology but it's not so uncompromising as to ignore altogether the emergence of alternative power plants. After extolling the virtues of diesel engines, it came as quite a surprise to the international press gathered at JCB's World HQ in Staffordshire when the company announced that its newest machine, the 19C-1 E-TEC, was an electrically-powered excavator.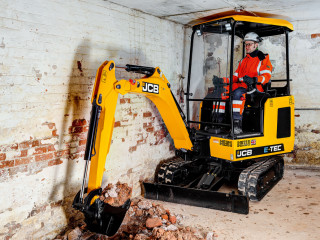 "We are proud to be at the forefront of developing innovative, near zero emission [diesel] engines that give optimum power to construction equipment," insisted JCB chief innovation and growth officer Tim Burnhope.
"Diesel is crucial in generating the high power that construction equipment needs to shape and construct the future of the world we live in," he confirmed.
But, he said, the challenge of rapid urbanisation is "causing JCB to think very differently...With urbanisation comes the challenge of machines operating more closely with people, food production, hospitals, as well as underground and indoors. A new zero-emission sector is emerging, and emerging quickly."
The 19C-1 E-TEC is JCB's first ever electric excavator, giving contractors a zero-emission, low-noise solution, allowing them to work independently, in late night urban conditions, within buildings and in tunnels without expensive exhaust extraction equipment. "The 19C-1 E-TEC points the way to a new zero-emission future for JCB mini excavators," Burnhope says, hinting that there will be more models to come.
The 1.9-tonne 19C-1 E-TEC is based on the 19C-1 conventional tailswing mini excavator launched in 2017, with the diesel engine replaced by an electric motor and three 104Ah battery packs that deliver of 312Ah (15kWh) of power. The modular batteries contain NMC lithium-ion cells – the same as those in modern electric cars – which can be recharged in six hours on a standard 230V plug. JCB intends to offer an off-board heavy-duty fast-charging option, which will enable the machine to be fully charged in 150 minutes.
The battery packs allow the machine to work for a full day in a typical duty cycle or four hours in a heavy duty cycle between charges.
Burnhope says the new electric mini excavator maintains the same performance and features as the existing model. "The highly efficient electric motor delivers instant – and greater – torque," he explains. "The motor drives the 19C electric mini's proven Bosch Rexroth load-sensing hydraulic system, delivering the same digging performance as the standard machine."
He adds that there are significant operational gains with the electric model: "The high efficiency of this advanced electric-hydraulic combination means a considerably lower cooling requirement, which contributes to longer battery life, and much lower noise level."
Burnhope concludes: "We know the industry is taking a responsible attitude to an environmentally-friendly working future. We know there is a growing need for zero-emission, quiet construction equipment. And we know the industry now expects and needs choice. We believe the 19C electric mini meets and exceeds the industry's expectations."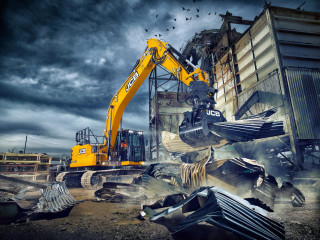 This article was first published in the April 2018 issue of The Construction Index magazine, which you can read for free at http://epublishing.theconstructionindex.co.uk/magazine/april2018/
UK readers can have their own copy of the magazine, in real paper, posted through their letterbox each month by taking out an annual subscription for just £50 a year. See www.theconstructionindex.co.uk/magazine for details.
Got a story? Email news@theconstructionindex.co.uk