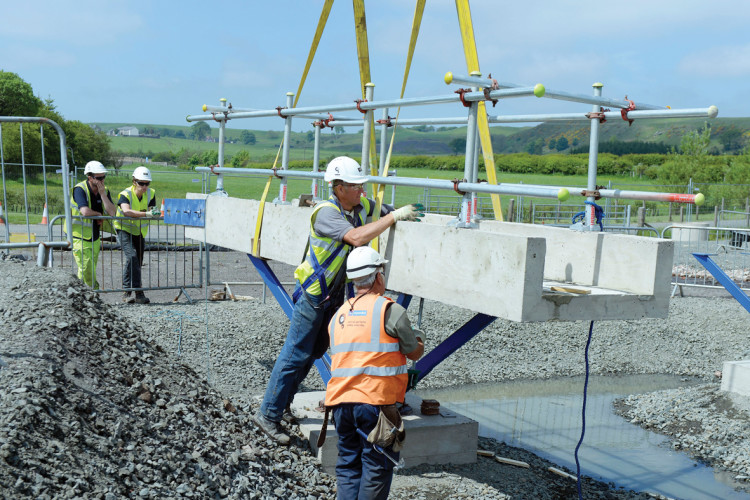 With any kind of training, there's nothing quite like first-hand experience to make all that theory come alive. But on the other hand if you drop a complete rookie in at the deep end there's always the danger they will sink instead of swim.
Some trainees simply cannot be allowed to make big mistakes – think of trainee airline or fighter pilots. But on the other hand no amount of theoretical teaching can equip someone with the skills needed to fly a plane.
That's why they use simulators: thanks to modern virtual reality systems, a trainee pilot can crash and burn as many times as it takes Trained actors and a virtual site projected onto a 12m curved screen add to the real-life scenario to get the hang of it – and nobody gets hurt. Virtual reality (VR) is now a mainstream technology as familiar to computer gamers as it is to trainee pilots. As a training tool it has much besides safety to recommend it: you don't have to be in a high risk occupation to benefit from practising your role under controlled conditions. And that's exactly what Coventry University's construction simulation centre is designed to do.
Housed in its own purpose-designed building at Coventry Technical Park, the simulation centre is run by Acua Solutions, the corporate education and development arm of the University, which is offering construction firms what it claims is a "unique approach to leadership and management development, using virtual reality technology, highly skilled actors and company specific scenarios to create completely believable virtual environments".
The equipment and methods used in the centre are not especially new – even the idea of a construction training simulator is not new, admits Janet Campbell, an "experiential learning specialist" and the new centre's manager.
"The original idea came from a similar centre in the Netherlands," says Campbell. "We brought the idea over here and  built this simulator here at Coventry Technical park." To be precise it was ACT-UK, an offshoot of the Dutch originator that, in partnership with several UK contractors, the CITB and Coventry University, set up the centre in 2009.
The centre, built by contractor Shaylor Construction, contains a suite of training rooms on one side, with the opposite side taken up by what Campbell terms the 'black box'. This is an enormous windowless room with black walls containing a complex of 10 standard site cabins arranged in two storeys, each fully furnished in authentic building site office manner.
Desks, coat hooks, muddy boots, computer terminals and coffee mugs adorn the interior, with site drawings and all the usual documents pinned to the walls and windows looking out onto a CGI construction site projected onto a giant curved screen along one whole wall of the black box. "Everything's set up like a real site and everything the delegate needs to run that site is there," says Campbell. The projected site is interactive, meaning that trainees can navigate their way around it, either from within their site office or 'outside'. In this environment, trainees find themselves immersed in a convincing mock-up of a construction site, complete with virtual colleagues – or rather, trained actors playing the roles of various site personnel.
The trainees are generally people in management roles who need to learn how to handle the complexities of a busy construction site. "They may be site managers, plant managers, QSs, engineers – all sorts of people" says Campbell. "We work with the employer to tailor each course for the individual." At present, the simulator can be set up as one of two types of site: a housing development or a 12 storey high-rise. Trainees are aware of what the setup is and what they are there to learn, but the simulation itself is entirely unscripted. Installed in their site office, the trainees start working on tasks they have been set but how things progress from there is as unpredictable as real life. "Someone will knock on their door – or just walk in," says Cambell. "It might be a colleague, a delivery driver, supplier, subcontractor, a neighbour complaining about noise, an HSE inspector…we direct that part but what happens is down to how the delegate responds". The authenticity of the experience is remarkable, she adds: "The minute they walk into the office they just naturally get to work."
Campbell, herself a chartered civil engineer who has run her own construction best-practice consultancy, says the simulator can be used to focus on any aspect of construction site work. "For example it's brilliant for health and safety assessment because it's not 'pure' health and safety being taught in isolation. It's all in context." Sessions in the simulator are interspersed with classroom instruction and feedback sessions on the other side of the building. Scenarios can be analysed and if necessary repeated back in the simulator so that delegates can try different approaches to the same type of situation. Among the contractors to make use of the simulator is Balfour Beatty Construction Services which, along with the CIOB and other contractors including Willmott Dixon, was heavily involved in getting the project off the ground.

Tony Ellender, emerging talent development manager with Balfour Beatty, says the company has already put around 60 people through the simulator. "We use it mainly to run development programmes for staff who've finished their formal training, such as graduates and apprentices, to help make the transition form a technician or supervisory role to a management role," says Ellender. Balfour Beatty has also used the simulator for school engagement exercises, giving prospective school leavers a taste of life on site within a safe and controlled environment.
While the Coventry simulator uses virtual reality to give trainees a safe and controlled experience of real life on a construction site, a very different approach is taken by the Constructionarium, a joint initiative in which universities and industry combine to deliver what is billed as "a hands-on construction experience for students and young professionals". Constructionarium is a six-day working field course during which participants construct scaled down versions of bridges, buildings, dams and similar projects and are assessed on the final day for budgetary control, methodology and timely completion. Several universities including Birmingham, Nottingham and Imperial College and contractors including Byrne Bros, Interserve and Laing O'Rourke have teamed up to deliver the Constructionarium at the National Construction College at Bircham Newton.
In Scotland the Constructionarium is delivered at a purpose-built 1.5-acre site at Sibbald Training in Blackridge, West Lothian. Since it was first piloted in 2009, students from Stow College and the universities of Strathclyde, Abertay, Heriot Watt and Glasgow Caledonian have benefited from Constructionarium's realistic and practical approach. This summer a group of third- and fourth-year civil engineering students from the University of Strathclyde spent six months building scaled-down versions of Sheffield's Millennium Galleries and the Kingsgate Bridge in Durham. Roles including project manager, health and safety officer and quantity surveyor were designated within student teams for the duration of the course.
"Graduates who have taken part in Constructionarium projects in the past have a far greater understanding of how to manage and deliver real projects, making their potential even more attractive to prospective employers," says Brian Keenan, director of Constructionarium Scotland.
"We are extremely grateful for the huge support we have received…from companies and organisations across Scotland which recognise the value Constructionarium delivers in terms of preparing students for a career in the industry."
This is the fourth year in which students from Strathclyde Universty have participated in Constructionarium Scotland, says Dr Michael Murray of the university's Department of Civil & Environmental Engineering. "It allows our students to acquire new knowledge in a real-time setting," he says. "This helps the students to reflect on their own studies and acts as a catalyst for a renewed vigour to undertake personal development planning. "The project work also helps them to understand the importance of managing teams and professional communication whilst providing the opportunity for students to demonstrate leadership abilities," adds Murray.
In addition to the Millennium Galleries and Kingsgate Bridge, previous UK-wide Constructionarium projects have used world-famous landmarks such as the Barcelona Tower, the Millau Viaduct in France, Johannesburg Stadium, the Brewery Wharf Footbridge in Leeds and The Gherkin (or 30 St Mary Axe, to give it its correct title) as models for the students taking part.
Constructionarium Scotland is considering incorporating the unique design of Glasgow's Clyde Arc Bridge into future projects. "The projects undertaken provide participating students with priceless experience in relation to the genuine day-to-day operations, and indeed challenges, construction professionals encounter at sites across the country on a daily basis," comments Graeme Ogilvy, Scotland director of CITB-ConstructionSkills, which this year contributed £249,000 to Constructionarium Scotland. "What is also extremely pleasing to see is the continued positive and tangible support received by the Constructionarium Scotland programme from such a diverse range of leading organisations which embody our country's construction sector," he adds.
Both the construction simulation centre and the Constructionarium were launched while the industry was deep in recession – "not the best timing," observes Tony Ellender. And yet companies like his have continued to support these experiential, learning-by-doing projects. Neither scheme has yet reached its full potential, but those who have used them are unwavering in their support. Now, with the prospect of a recovery in workloads and better job prospects in the industry, such training resources could soon be snowed under.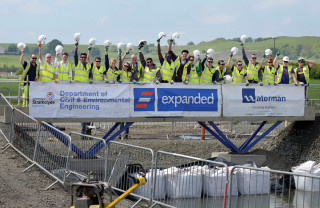 Constructionarium delegates test the strength of their completed bridge.
Got a story? Email news@theconstructionindex.co.uk