This work was part of demolition contractor Keltbray's £25m subcontract for Costain.
Costain is Network Rail's main contractor, expanding the passenger and train capacity of the station for an improved Thameslink train service by 2018. 
Plans involve improvements to the rail infrastructure around the station, a football-pitch-sized concourse and two new station entrances at street level.
During the first phase Keltbray had more than 100 people working on the demolition of three platforms and 12 brick viaducts alongside a live railway.
Keltbray project manager Nick Smith said: "Our biggest technical challenge was to ensure the stability of the remaining structures during the demolition process. We solved this through the installation of temporary works including a gravity concrete retaining wall to support the live platforms and tracks. Four machines worked simultaneously along a 150-metre long face to progressively demolish the arches in 1.5-metre strips. Maintaining this sequence was essential to avoid an uncontrolled collapse. During the works over 25,000 tonnes of material was removed from site with wagon movements peaking at over 150 loads per day."
At London Bridge all parties on site are working to BS 11000 Collaborative Business Relationships. Mr Smith said that this had helped complete the first phase early. "Working to BS 11000 on this contract promotes team work and enables us to work more democratically with Costain, Network Rail and other parties on site to ensure we focus on mutual benefit and optimise efficiency," he said.
To minimise noxious fumes on site, Keltbray is using only low emission vehicles and plant.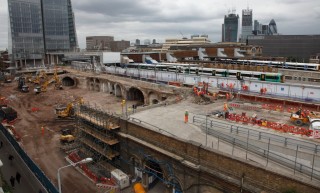 Got a story? Email news@theconstructionindex.co.uk