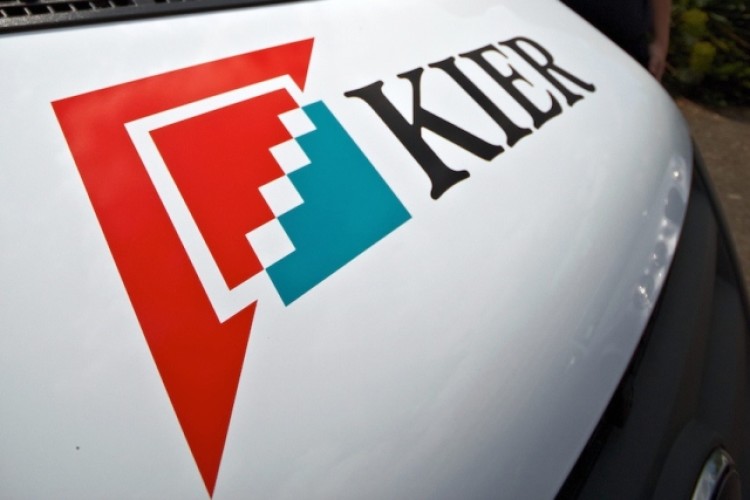 Kier's half-year results show a modest 1% growth in revenue for the six-month period ended 31st December 2017, to £2,011m and a 6% drop in statutory pre-tax profit to £33.7m.
At an underlying level, operating profit was up 5% to £60.0m.
Net debt rose to £239m, up from £179m a year before, but it is expected to be less than 1x Ebitda by financial year-end on 30th June, the board said. The debt is underpinned by Property and Residential assets of £500m.
Chief executive Haydn Mursell said: "The group is performing well. Our £9.5bn Construction and Services order book, combined with our £3.5bn pipeline in the Property and Residential divisions, provides good visibility of work over the medium term."
He added: "The group's performance reflects the strength of our business model and our financial and operational disciplines. Our portfolio of businesses provides balance and resilience and our approach to risk management is evident in the margin performance we have delivered over many years. We remain on course to deliver double-digit profit growth in 2018 and to achieve our Vision 2020 strategic targets."
In the Construction division, revenue dipped 7% to £949m delivering an operating profit down 20% at £16.7m. These results were impacted by the £7.7m cost of closing the Caribbean and Hong Kong businesses and delays in project starts. Operating margins were 1.8%, down from 2.0% in the same period a year before, but are expected to improve in the second half of the financial year, the company said.
With lower volumes in the construction division, working capital outflow for the period spiked to £58m (2017: £28m outflow) but the board expects this to reverse in the second half of the year with new work expected to start.

The Services division revenue was £901m, up 17%, driven by the highways business and the acquisition of McNicholas in July 2017. Operating profit increased 19% to £44.4m and operating margins were stable at 4.9%. Excluding the McNicholas acquisition, turnover increased by 6% to £816m.
It is now revealed that McNicholas cost Kier £24m, including acquired debt, not the £18m previously indicated.
The Property division generated an operating profit of £12.2m, up 58%, on revenue of £138m.
For Kier Living, revenue was down 2% at £166m but operating profit was up 7% to £8.7m, with 965 unit completions during the period
Kier was impacted by Carillion going into liquidation in January 2018. Kier was involved in three joint arrangements with Carillion and has consequently increased its share in these projects. On a Highways England M6 smart motorway project, Kier has moved from a 50% share to a 100% share. On the two separate HS2 contracts, Kier moved from a 33% share to a 50% share with Eiffage.
The board said that these contracts "are all performing well, operationally and financially" but the impact on future profits is still being evaluated.
Got a story? Email news@theconstructionindex.co.uk