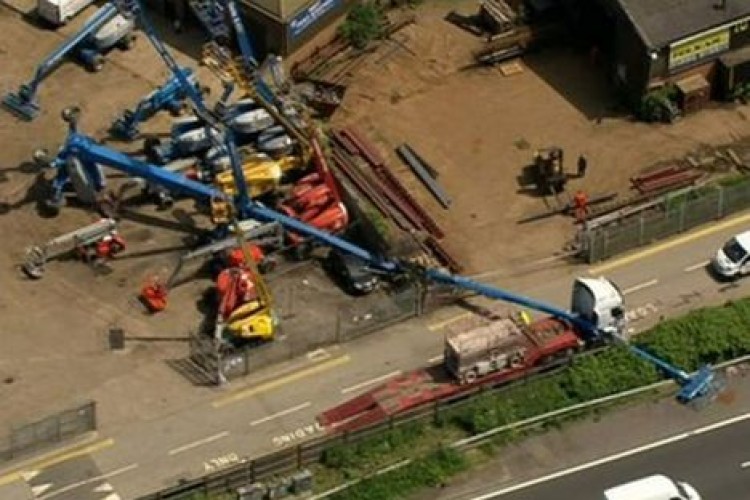 The access hire specialist has also hit back at the manufacturer for implying that the accident may be due to a calibration error by Kimberly. Terex denies making any such implication.
Kimberly said that only Terex Genie personnel had ever calibrated the 41-metre high machine that toppled.  
Kimberly has issued the following statement: "Following the fatal accident involving a Genie 135/70 at its Iver depot on 5th June 2013, Kimberly Access Ltd is continuing to investigate the circumstances surrounding the accident and is assisting the Health & Safety Executive with their ongoing investigation.
"Kimberly is concerned by the recent press statement released by Genie on Monday 29th July, 2013. In this statement Genie state that it has found that some machines that were calibrated in the field may not have been calibrated according to Genie's service manual and therefore Genie recommends that the secondary boom angle range is checked on all machines as a precaution.

"Kimberly wishes to make it clear that at no time has it ever attempted to calibrate the secondary boom angle range on the 135/70 involved in the accident and Kimberly's service records show that this procedure was only ever carried out by Genie personnel.
"Kimberly's paramount concern remains ensuring the health and safety of its staff, customers and the public at large. Preliminary findings of appointed independent experts have raised concerns regarding the machine's integrity that are distinct and separate from the concerns raised by Genie in its press statement. Kimberly's remaining fleet of 25 Z135s will therefore remain grounded until these concerns have been fully explored and until Kimberly is totally satisfied that the 135/70s are safe to operate or have been made safe by modification.
"It would be inappropriate for Kimberly to comment further at this stage of the HSE'S investigation."
Terex Genie said in its safety notice: "To date, Terex has not made any determination that the cause of the accident at Kimberly Access was due to improper calibration as described in the safety notice."
Got a story? Email news@theconstructionindex.co.uk