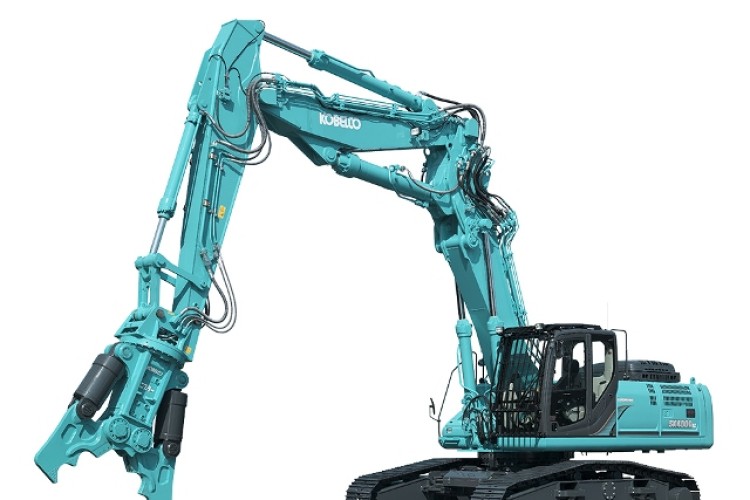 The Japanese manufacturer is also continuing to develop hybrid engine technology, Makoto Kato, managing director of Kobelco Construction Machinery Europe revealed at the Bauma trade fair in Munich this week.
Kobelco, a subsidiary of Kobe Steel, already has the largest market share of the demolition excavator market in Japan, with its purpose-built machines 3 tonnes to 200 tonnes. Its biggest machine has a 65-metre reach, making it the world's highest.
Mr Kato said that Kobelco Europe had been test marketing for European customisation and the plan is to launch in 2017.
Kobelco first demonstrated its enthusiasm for hybrid power back in 2006 when it exhibited the SK75SR hybrid concept model at that year's Intermat fair in Paris. Since then, Mr Kato said, the company has further developed, tested and proved the technology in Japanese market and was "now ready to go" with the SK210LCH-9 that is being exhibited at Bauma this week. The base machine is a Generation 10 SK210LC, with the addition of an electric generator, electric swing motor and battery, rather than capacitor. Target fuel consumption is 15% less than the regular SK210LC-10 with no loss of digging performance.

Kobelco says that its hybrid hydraulic excavator technology not only saves fuel but also evens out loading on the engine, which in turn saves excess energy from light loads to assist when needed for a heavy load. The intelligent machine recovers energy from swing deceleration and stores it for maximum performance and operator support.
The machine on show at Bauma (below) is Japanese specification. The target launch date for the EU model is the first quarter of 2017.
Got a story? Email news@theconstructionindex.co.uk