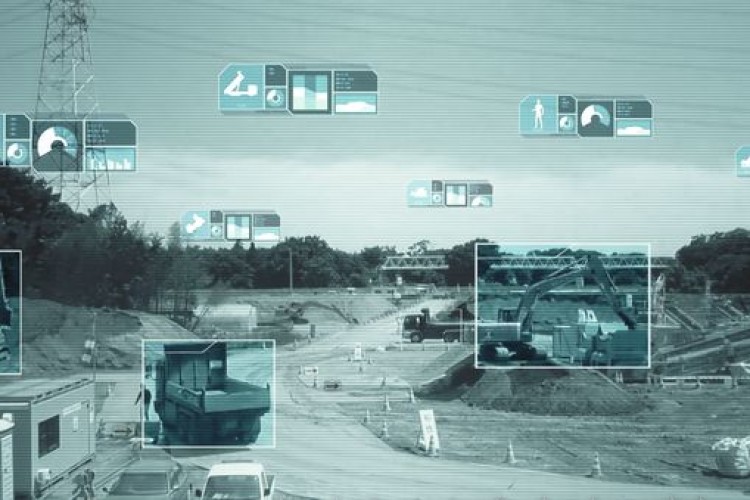 Komatsu will use NVIDIA technology to create 3D visualizations of construction sites, showing the real-time interaction of people, machinery and objects, with the aim of making sites safer and more efficient.
The partnership will focus on Komatsu's use of NVIDIA graphic processing units (GPUs) to visualise and analyse entire construction sites. The NVIDIA Jetson AI platform will serve as the 'brain' of heavy machinery deployed on the sites.
NVIDIA GPUs will communicate with drones and cameras in the construction sites, acting as an AI platform for analysis and visualisation. At the centre of the collaboration is NVIDIA Jetson, which will power cameras mounted on Komatsu's construction equipment and enable 360° views to identify people and machines nearby to prevent collisions and other accidents.
 "Artificial intelligence is sweeping across industries, and its next frontier is autonomous intelligent machines," said NVIDIA founder and CEO Jensen Huang. "Future machines will perceive their surroundings and be continuously alert, helping operators work more efficiently and safely. The construction and mining industries will benefit greatly from these advances."
Construction is the latest in a series of industries in which NVIDIA has signed agreements. Among these are partnerships with GE Healthcare and Nuance in the area of medical imaging; FANUC in the field of robotics; and more than 225 car makers, start-ups and research houses – among them, Audi, Tesla, Toyota and Volvo – for autonomous driving.
Safety risks and inefficiencies in the construction industry make it particularly well suited for improvements powered by AI, said NVIDIA. Construction sites are generally considered among the more dangerous workplaces because of the presence of heavy equipment, uneven terrain and continuous activity. Last year, sites in Japan alone recorded some 300 deaths and more than 15,000 injuries, according to the Japan Construction Occupational Safety & Health Association.

Japan's construction industry is particularly challenged because of the nation's severe labour shortage due to an ageing population. Of the 3.4 million skilled workers in the domestic industry (as of 2014), roughly 1.1 million, or one-third, are likely to leave in the next decade, according to the Japan Federation of Construction Contractors.
To help address these issues, Komatsu began in 2015 rolling out its 'Smartconstruction' initiative, connecting data related to on-site workers and objects to make sites safer and more productive. The initiative has been introduced in more than 4,000 sites across the country, with plans to expand both domestically and internationally.
"We'll start integrating NVIDIA GPUs into our construction sites," said Yuichi Iwamoto, senior executive officer and chief technology officer at Komatsu. "By leveraging NVIDIA's experience in image processing, virtualization and AI, we can further transform construction areas into jobsites of the future."
SkyCatch will provide drones to gather and map 3D images for visualizing the terrain at the edge. OPTiM, a management-software company, will provide an application to identify individuals and machinery collected from surveillance cameras. Both of these Komatsu partners are also members of NVIDIA's Inception program for AI startups.
Jetson will also be used in stereo cameras located in the cabs of construction machines to help assess rapidly changing conditions in real time and instruct the driver accordingly. Future applications include high-resolution rendering and virtual simulations of construction and mining sites along with automated control of machinery.
Got a story? Email news@theconstructionindex.co.uk