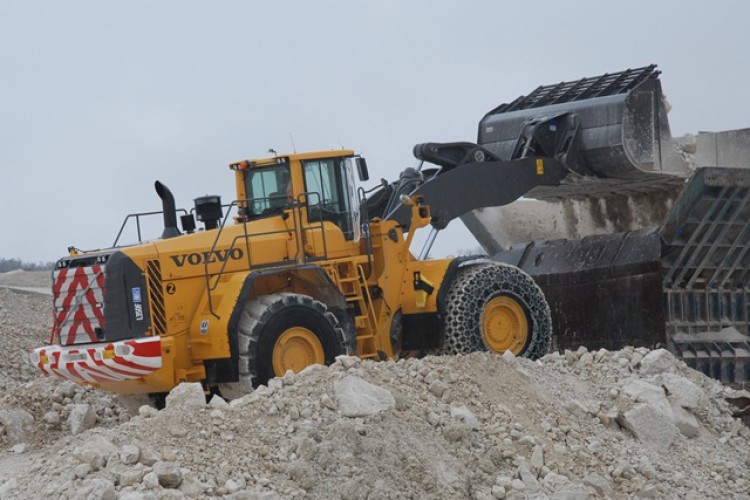 Lime supplier Singleton Birch took delivery of the Volvo L350F wheeled loader in February 2010 for its quarrying activities at Melton Ross Quarries in Barnetby, North Lincolnshire.
"We were swayed by Volvo's claim for their flagship loader of making a 10 litre per hour saving in fuel and they were right because the machine has done just that," said quarry manager Mark Sacker. "At today's cost for red diesel, the L350F has saved us in excess of £20,000 in its first year of operation."
The company has now taken delivery of a second L350F, making Singleton Birch the only UK quarry operator to run Volvo L350Fs side by side. Both machines are deployed on loading blasted chalk from the face and running to a mobile sizer on runs of up to 150 metres.
They operate a 12 hour shift, seven days a week delivering around 450 tonnes of material per hour to the primary.
The machines have been modified for the application, as per the Mineral Products Association specification. These include safe entry and exit to the operator's compartment with hydraulically retractable steps at the nearside rear of the machine.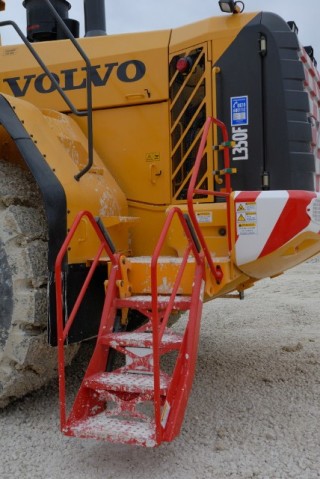 Other additions to the standard specification include a reversible fan; modified mirrors; strobe reverse lights; alternator cooling; a rock guard for the front windscreen; dust buster for the air intake; rock deflectors for the  6.9m³ spade nosed rock bucket; Groeneveld central lubrication system and a tyre pressure monitoring system. An RDS 9000 weighing system has also been installed in order to monitor actual production.
In addition Singleton Birch has purchased a pair of Pewag chains for the front wheel and tyre assemblies to evaluate the cost savings versus their annual expenditure on tyre repairs and to monitor the effect of adding an additional two tonnes of dead weight to the machine. "It will be interesting to compare the two machines now going forward," comments Mr Sacker. "The initial investment in tyre chains is huge, but we are confident this will offer a good return versus the cost of repairing our tyres from damage which is unavoidable in this type of application. We would also anticipate fuel consumption to go up slightly but again are very confident this will be offset by the higher productivity achieved due to reduced slippage when loading at the face."
Got a story? Email news@theconstructionindex.co.uk