The ALARM survey, produced by the Asphalt Industry Alliance (AIA) is now in its 22nd year and again reports that local authorities in England and Wales need more than £12bn to bring the network up to scratch. This figure has remained largely unchanged for four years. It was £12.2bn in 2015 and £11.8bn in 2016.
However, the average annual shortfall per authority has risen by more than 50% in the past two years, from £3.2m in 2015 to £5.0m this year, according to the AIA's analysis.
The number of potholes filled over the last year has dropped again for the second successive year, but is still high at 1.7 million.
The overall average local authority highway maintenance budget in England was up in 2016/17 to £21.8m, compared to £19.8m the previous year.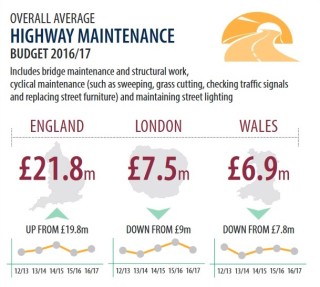 AIA chairman Alan Mackenzie said: "Local authority highway teams do not have enough resources to arrest the terminal decline in the condition of our local roads and the network is not resilient enough to meet the challenges ahead. Despite this, the efficiencies they have achieved in recent years through adopting an asset management approach should be applauded.

"Working smarter, greater collaboration and improved communication are all contributing to their ability to do more with less – though of course there will come a point when there are no further efficiency savings to be found."
The Civil Engineering Contractors Association called for the government to let councils borrow the money they need, on the basis that the debt burden would be cheaper than the longer term repair cost for poorly maintained roads.
"CECA has long argued for local authorities to come together to promote prudential borrowing to fund a further national programme of intensive improvements to local roads significantly reducing longer-term repair costs," said director of external affairs Marie-Claude Hemming.
The full 2017 ALARM survey findings are at www.asphaltuk.org
Got a story? Email news@theconstructionindex.co.uk