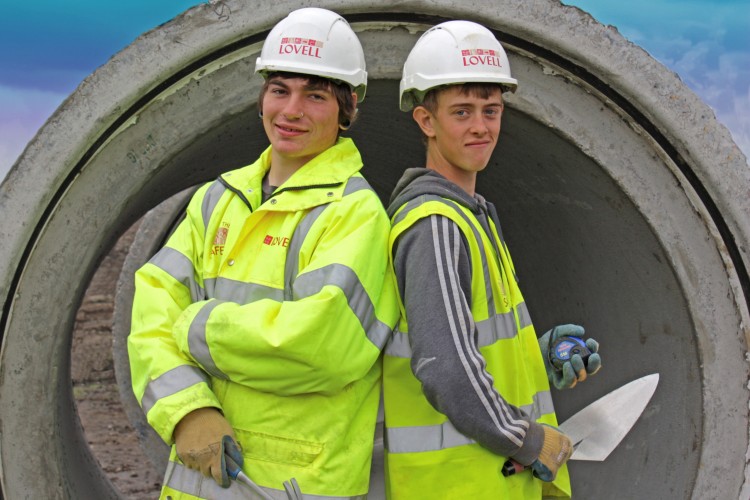 Richard Lee-Haigh, from Wibsey, and Paul Bell, who lives in Buttershaw, have both secured places on the national Lovell apprentice training programme. The duo are starting their careers working as part of the Lovell team carrying out a £5.6 million scheme to build 45 new homes at Longfield Drive in West Bowling, which the company is delivering in partnership with City of Bradford Metropolitan District Council and the Homes and Communities Agency (HCA). The project is the first to be awarded by the HCA's Delivery Partner Panel which has been set up to fast-track the development of new housing on public land.
Richard, 18, will be working towards a National Vocational Qualification (NVQ) Level 2 in carpentry and joinery. Paul, also 18, will be studying for an NVQ Level 2 in bricklaying. The pair have completed the theoretical side of their studies at Bradford College and will now work on site at Longfield Drive alongside experienced Lovell tradespeople to gain the practical experience they need to become fully qualified.
"Lovell visited Bradford College while I was studying there to talk to students about careers in construction," explains Richard. "The company's apprentice training programme seemed to be just what I was looking for so I decided to apply. I attended an interview and was delighted when I was offered a position."
"I'd been interested in construction since an early age and, when I left school, I decided to pursue a career in the industry," says Paul. "I'd done some practical bricklaying work at college, so I had a good idea of what to expect when I started on site."
Richard and Paul's work on site will be assessed by external examiners who visit them on a regular basis. In addition, they receive support and guidance from Lovell regional training advisor Sharon Tyer, who oversees their training.
"I'm really enjoying my apprenticeship so far – every day on site I'm learning something new," says Richard. "I would like to study for my NVQ Level 3 next and possibly start my own business in the future."
"Everyone has been really supportive and it's reassuring to know that there is always someone there to ask for advice if I do need any help," says Paul. "I hope to eventually become a site manager and be running my own housing developments."
"Richard and Paul are exactly the sort of young people we want to attract to our apprentice training programme – talented and dedicated with great enthusiasm to learn," says Lovell regional training advisor Sharon Tyer. "We're looking forward to helping them learn all the practical skills they'll need for long and successful careers in the construction industry."
Coun the Rev Paul Flowers, Bradford Council's Executive Member for Culture, Planning and Housing, comments: "These apprenticeships in the building trade are a great opportunity and will give Richard and Paul hands-on experience of what their future careers could involve. It is an additional benefit of a scheme which will create much-needed affordable housing for dozens of families on low incomes in Bradford."
Richard Panter, area manager for the HCA says: "It is excellent news, not just for Richard and Paul, but also for Bradford because the skills they are learning can be used to provide much-needed local homes. We are really pleased that our £2.8 million investment has created these jobs to help build the future of Bradford." 
Got a story? Email news@theconstructionindex.co.uk