Mabey Bridge Infrastructure division builds steel bridges at its workshop in Chepstow. Recent projects include the new Walton Bridge in Surrey for Costain. It does not include the modular bridge production business, which is based in Lydney in Gloucestershire.
Mabey Bridge Renewables, established in 2011, produces wind turbine structures.
Mabey Bridge Infrastructure at Chepstow will close with the loss of 150 jobs.
Renewables operates from a second Chepstow plant in Newhouse, newly built for £38m. This facility (pictured below) has been put up for sale and employs a further 150 people.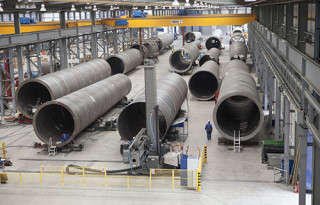 In a statement yesterday the company said: "We regret to confirm that we have informed our employees today of the proposed closure of the Mabey Bridge Infrastructure division at Chepstow. We also told employees that we have taken the very difficult decision to prepare the Renewables division and the Newhouse site for sale.

"We have not made these decisions lightly and we understand that this is a very difficult time for our people. Their welfare is an important concern for us and we will provide them with as much support as possible over the coming weeks.
"A full consultation process will now be conducted with all those affected and we will provide them with as much information as possible. We are also committed to listening to their views.
"Regarding the Renewables division at the Newhouse site, we anticipate that a buyer can be found to provide the necessary investment to support this business in the long-term.
"Like many companies we are forced to consider every possible option to remain competitive in difficult times. The proposal follows a comprehensive review of the Mabey Bridge business.
"We are confident that these proposed changes will help build a stronger, more sustainable future for Mabey Bridge's modular bridge business in Lydney."
Got a story? Email news@theconstructionindex.co.uk