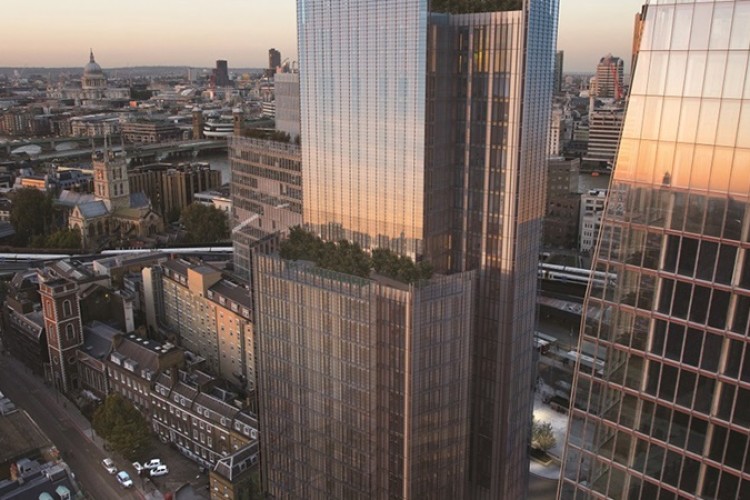 Shard Place replaces Fielden House and will become the third building in Shard Quarter, which also comprises The Shard and The News Building.
The whole Shard Quarter is designed by Renzo Piano for Qatari-funded developer Real Estate Management (UK) and its UK partner Sellar Property Group.
Shard Place will comprise 180,000 sq ft of space over 26 floors and marks the third phase of the 2.5 million sq ft regeneration of the area immediately around London Bridge Station. It will have 148 flats and a roof garden on the 16th floor.
Shard Place is between St Thomas Street and London Bridge Street, next to The Shard and The News Building. The building itself will be raised above ground level and set back from the road at St Thomas Street, providing additional retail space and an extended public realm.
Fielden House, which it replaces, previously accommodated offices and several leisure occupiers. Demolition has been completed and works have begun on the foundations for Shard Place. The development is on track to be completed in 2020.

Mace will provide full construction management services for Shard Place including the delivery of the shell and core, the fit-out of the apartments, all associated MEP services, residential amenities and the public realm.
Gareth Lewis, Mace's COO for construction, said: "Mace has worked on almost every element of Shard Quarter – from building The Shard itself to the News Building and the new station concourse. The fantastic proposals for Shard Place will complete this transformation and our appointment to deliver the final jewel in the crown following a competitive tender process feels very special."
Real Estate Management (UK) chief executive Michael Baker said: "Mace was one of our trusted partners on The Shard and we look forward to working with them to complete the third building in Renzo Piano's vision for Shard Quarter. Since The Shard's inception, the area around London Bridge Station has undergone a complete transformation and is almost unrecognisable. The thriving community of employees, visitors, guests and commuters that come to Shard Quarter every day has enlivened the area and we look forward to welcoming residents to the neighbourhood when Shard Place is ready for occupation."
Sellar chief executive James Sellar said: "With enabling works now complete, the appointment of Mace positions us one step closer to completing the much-acclaimed Shard Quarter trilogy. The area has been dramatically transformed over the past decade and is now a thriving cultural hub that has attracted new businesses and visitors."
Got a story? Email news@theconstructionindex.co.uk