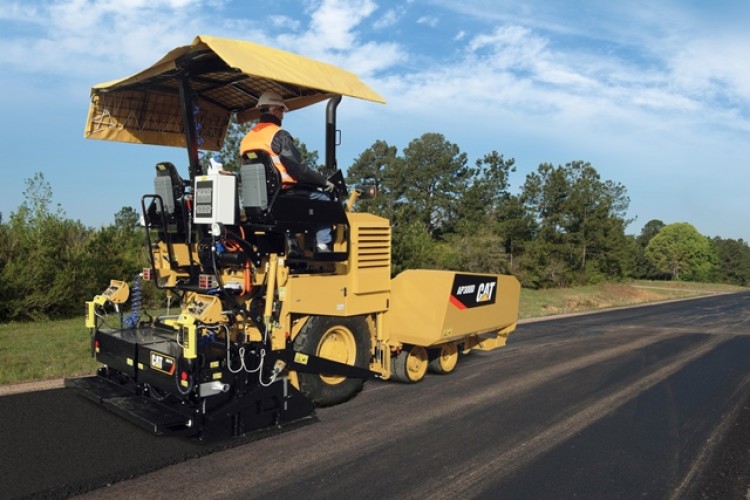 Its hydrostatic drive system aids manoeuvrability with tight turning ability (1.65m turning radius) and good traction thanks to a front wheel assist option.
Weighing in at 7.4 tonnes, the Cat AP300D provides a standard paving range of 1700mm to 3200mm. With extensions it can pave up to 4000mm width. For narrow applications there is a central paving attachment that reduces it to 650mm. It takes about 30 minutes to add or remove the attachments, Cat says.
The mix delivery system has independent hopper control for working near buildings and other obstacles. Cat says that the independent control of each auger and conveyor offers precise delivery to each side of the screed when paving at varying widths. The fact that the augers and conveyors are reversible means that spills are kept to a minimum, and so reduces hand work at the end of each paving pass. The height of the augers is hydraulically adjustable and the high clearance makes the machine easier to load and unload when transporting.

The AS3173 screed uses a tractorequipped generator to power the electrically-heated screed plates. There are temperature sensors and heating elements in each section – including the optional extensions – to give consistent heat distribution throughout the screed plates. A screed assist feature maintains consistent pressure on the mix to prevent settling. This improves smoothness of the laid surface, Cat says.
The AP300D comes as standard with two seats on top and a single sliding control console. The seats can slide out sideways beyond the machine frame for better visibility when paving near kerbs or other obstacles. The seats can also be adjusted front-to-back as well as from side-to-side. The canopy can be specified with manual or hydraulic folding, according to preference, but either way has extending wings to cover the operator when positioned beyond the machine frame.
Got a story? Email news@theconstructionindex.co.uk