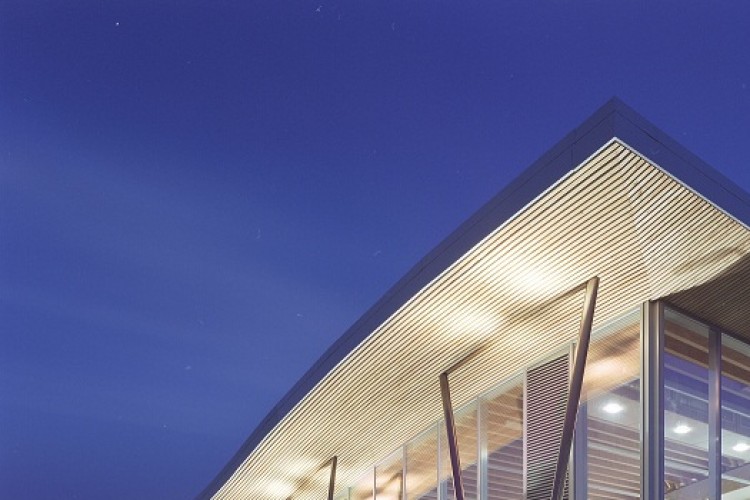 Part of the transformation included a new fitness suite with an undulating roof.  For this, Kerto engineered timber provided the ideal solution thanks to its strength to weight ratio and remarkable versatility along with its visual appeal.
The new centre, which now provides 1,950m2 of new sports accommodation, was designed by architectural practice, Rivington Street Studio, structural engineer, Michael Barclay Partnership and services engineer, Michael Jones Associates.  The construction of the project was completed by construction and infrastructure company, Morgan Sindall.
The new building links and provides an entrance to the University College's existing games hall and original 1960's sports block to create a single centre.  The existing hall and sports block were also refurbished at the same time.  The centre is home for Sport St Mary's which supports the ever-growing academic programmes and student sport teams as well as catering for all levels of student, staff and local community activity.
David Tucker, Director at Rivington Street Studio, commented, "The roof of the new centre had a number of requirements that needed to be met.  The product's visual appearance when viewed in both directions was key and, in addition, we were looking for a product that would achieve the long spans required for the relatively small cross sectional area and would be quick to install."
Due to its homogeneous bonded structure, Metsä Wood Kerto is strong and dimensionally stable, which means that it does not warp or twist.  This makes the product ideal for load bearing structures and long spans.  In addition, the finish of the engineered wood is aesthetically pleasing.  The aesthetic appeal of Kerto is visible to users of the sports centre who will also be reassured by its exceptional eco credentials; the wood sourced to produce Kerto is from Metsä Wood's certified forests and it has full PEFC accreditation.

David continued, "The finished result looks fantastic.  The gentle curve of the roof, formed with the Kerto softens the rectilinear sports hall behind it, while providing a generous covered entrance area."
In terms of speed and accuracy, the beams were machined off site to fit precisely and discreetly with the adjacent steelwork allowing the erectors to install the structure quickly and accurately. For the first phases of the project the machining work was done by Metsä Wood's long term distribution partner, Donaldson Timber Engineering (DTE). Working in partnership with Morgan Sindall and Metsä Wood, the programming of the works allowed for the later phases to be delivered, pre-machined, directly from the Kerto mill in Finland.  In fact, the build was delivered in 58 weeks.
Luke Roberts, General Manager Floors of DTE said: "Kerto was the obvious choice for a project of this nature. Because it is so versatile it could be used both as a structural material and also one which provides a high architectural aesthetic."
Robert Siddens from Morgan Sindall commented, "Kerto has provided the ideal solution by meeting the project's exacting needs and Metsä Wood provided a good service with excellent quality of the finished product.  We look forward to working with Metsä Wood again in the future." 
Got a story? Email news@theconstructionindex.co.uk