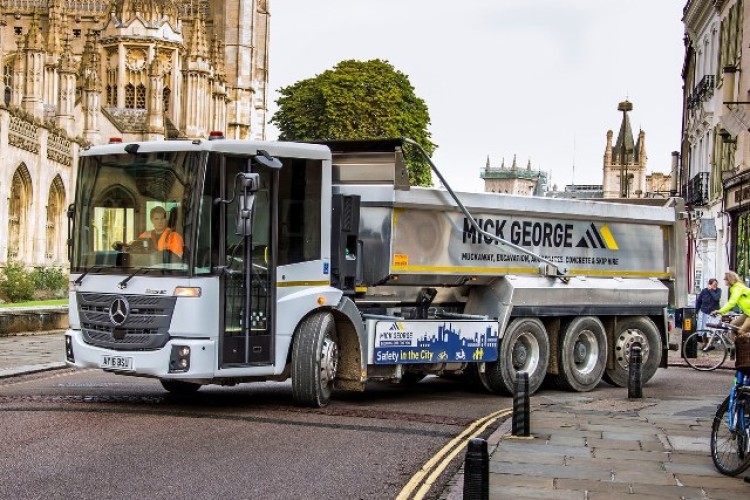 The Mercedes-Benz Econic combines a panoramic windscreen and full-height glazed passenger door, with a low seating position that allows the driver to make direct eye contact with cyclists and pedestrians at junctions and in traffic. Mick George has bought 10 of them as the new trucks will spend much of their time working in and around Cambridge, which has more than its fair share of cyclists. It has been estimated that one in five journeys in Cambridge is made by bike, many of them by students.
A leading supplier to the construction industry in East Anglia and the East Midlands, Huntingdon-based Mick George operates quarries, landfill sites and waste transfer stations, and provides bulk excavation and earthmoving, aggregate supply and waste management services.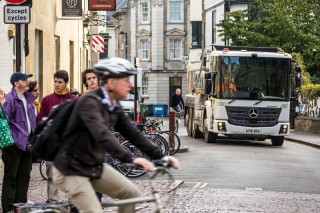 Its new construction vehicles are being supplied by Orwell Truck & Van. The order comprises five 18-tonne Econic 1830s with Hyva skip-loader bodies and five 32-tonne Econic 3235 ENAs with alloy tipping bodies by Wilcox.
The eight-wheelers, which offer a payload of 20,450 kg, have single front steer axles, double-drive bogies and rear-steer axles. This configuration gives the vehicle a tight turning circle, and makes it significantly more manoeuvrable in city centres than a standard 8x4 construction truck.
Orwell has also supplied Mick George with a pair of 18-tonne Mercedes-Benz Arocs 1824s with Multilift skip-loading equipment, and is currently processing orders for three more Econics with Heil refuse bodies, an 18-tonne 1830 and two 26-tonne 6x2 2630s.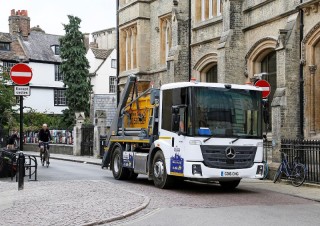 Like all of Mick George's trucks, its new Econics and Arocs are fitted with an additional safety armoury comprising five cameras, nearside proximity scan systems, left and right turn audible alarms and additional warning markings.
Mick George transport manager Joe Gossage said: "The introduction of these Econic chassis further underlines our determination to minimise the risk to vulnerable road users. The enhanced field of vision which this vehicle offers will be a real advantage to our drivers when navigating through cities or in complex situations, while its two-step, low entry minimises the possibility of injury when accessing the cab."
He added: "Low-entry, high-visibility vehicles like the Mercedes-Benz Econic will play an important part of our road transport operations future. Having made such a significant investment in these vehicles, we hope they will prove viable for future procurement decisions and can be rolled out to some of the other areas in which we operate."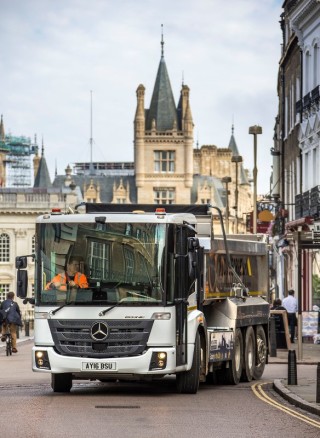 Got a story? Email news@theconstructionindex.co.uk