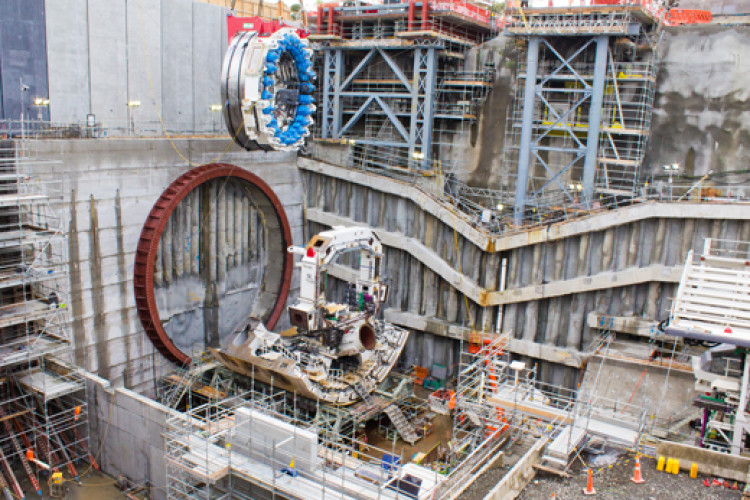 The NZ$1.4bn (£725m) Waterview Connection is New Zealand's largest road project and one of six projects to complete the Auckland's western ring route. It is being built by the Well-Connected Alliance comprising the NZ Transport Agency, McConnell Dowell, Fletcher, Parsons Brinckerhoff, Obayashi, Beca, and Tonkin & Taylor.
The main drive is the critical component that will enable the cutting face of the TBM known as Alice to rotate and bore the twin tunnels that will connect the northwestern and southwestern motorways. It  lowered 40m into the deep trench where the machine is being reassembled.
"This single operation illustrates that this is a project of unprecedented scale in New Zealand," said Transport Agency highways manager Tommy Parker. "To have completed it with such little fuss, as if an everyday task, should give all the project's stakeholders, which in this case is the whole of New Zealand, great confidence in our team's ability to meet the many challenges that lie ahead in its safe delivery."

The manoeuvre was carried out using a 600t crane and required the construction of a deep-piled, reinforced crane platform, capable of supporting a total weight of almost 1200 tonnes above the trench. Despite being only a temporary structure, the platform required deeper and longer piles than any of the permanent structures on the entire project.
Three weeks after arriving in her many pieces, Alice is beginning to take shape in the excavated trench of the future tunnels' southern approach. Reassembly involves the reattachment of over 300,000 bolts, ranging in weight from a single gram to 4kg. Some 10,000 of these will be in the main shield alone.
The TBM is due to be commissioned and start tunneling in late October. Two tunnels will be bored, both 2.4km  long and wide enough for three lanes of traffic in each direction. They will complete Auckland's 47km western ring route.  
Got a story? Email news@theconstructionindex.co.uk